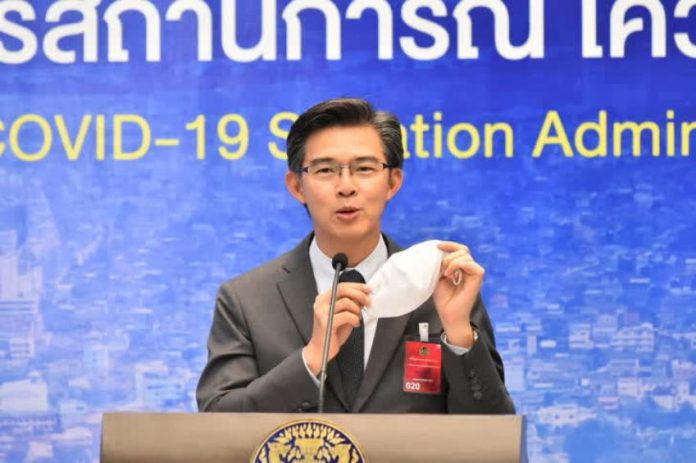 Bangkok-
At a daily press conference in Bangkok this morning at the Center for Covid-19 Situation Administration, or CCSA, the spokesman of the CCSA, Dr. Taweesin Visanuyothin, brought a guest speaker to the conference, Dr. Polawat Vitoonkolchit, the Inspector General of the Ministry of Digital Economy and Society, who spoke about an upcoming contact tracing phone application that is currently in development.
The application will be called, in English, Thai Victory, or Thai "Cha Na". The application will be free to download and will be voluntary, according to Dr. Polawat.
However, businesses will be "encouraged" to utilize the application and set up measures to ensure that it is highly visible and to encourage customers to use the application as well.
Each participating business will need to set up a QR code at the front of their establishment, according to Dr. Polawat, that all patrons can scan as they enter, which helps track them for possible tracing purposes if the Covid-19 virus is detected. Dr. Polawat, as well as Dr. Taweesin, dismissed concerns of the government using it for other tracking purposes or violating privacy and said the application is strictly for tracing and tracking the Covid-19 virus.
Customers will be responsible for scanning the QR Code themselves when entering a business, which will allow them to check in and check out of the venue.
A customer can also provide ratings of the venue around their thoughts on the hygiene of the venue, as well as report violations of physical distancing or if they felt the venue was too crowded or not using proper hygiene measures, like masks, hand sanitizer, bathroom cleaning, etc.
Dr. Polawat said that if a case is detected of Covid-19 at a venue, all users who checked in will get a text message alert and will be invited to receive a Covid-19 Coronavirus test for free at a nearby medical facility. He again assured the application would be used for no other purpose then to track the Covid-19 Coronavirus.
He also stated that the information given in the application would only be utilized at the Department of Disease Control and not at any other government agency.
The application is still in development but will be coming "soon" he stated and is on track to be completed before the highest risk venues for possible spread of Covid-19, such as nightlife, bars, concerts or sports events, re-open in future phases. The application may be available as early as tomorrow afternoon.
The Pattaya News will give more information on this application as it is released by the Thai Government.