Pattaya-
At 1:30 AM this morning Pattaya police, after observing a large amount of people breaking curfew and driving motorbikes on a routine patrol, discovered a birthday pool party being held in Central Pattaya with 44 people.
Led by Col. Kornwat Hanpradit of Chonburi Province additional officers were called to the scene at the Amazing Pool Villas in Central Pattaya. The Pattaya News was invited to join the raid. A video of the raid is below.
44 people, mostly teenagers, were discovered at the party. Three were Chinese tourists, the rest were Thai nationals.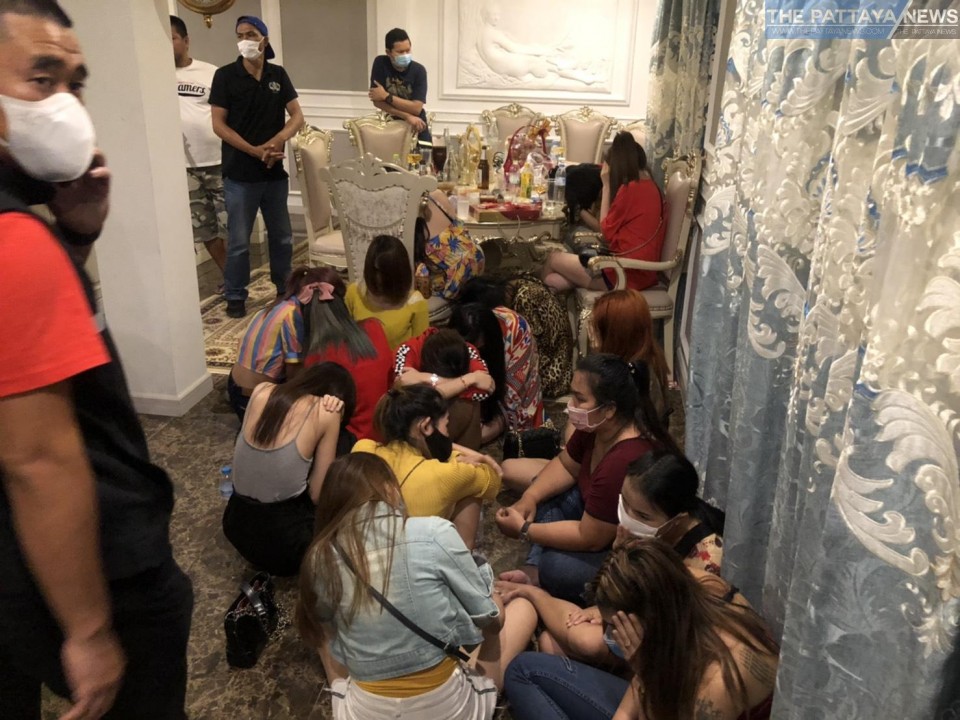 Multiple bags of drugs, including methamphetamine, were discovered at the party. Additionally, a 41 year old man, Mr. Thanasak Kaewsri, 41 years old, was discovered with an outstanding warrant for drugs and money laundering. The majority of the drugs were openly resting on tables with alcohol at the party.
An illegally registered firearm was also discovered by police officers at the scene in a black Vigo pickup truck registered in Bangkok.
The party had been arranged for a birthday for one of the attendees and when police arrived a live DJ was playing while the crowd danced and mingled.
Under the emergency decree to control the Covid-19 Coronavirus, any house parties are illegal and considered a gathering. All suspects arrested were tested for drugs, although the results were not available as of press time this morning.
All 44 suspects face up to two years in jail and up to a 100,000 baht fine under the harsh emergency decree laws, in addition to drug and weapon charges for those that apply. Additionally, the party was during curfew hours when residents are supposed to be at their homes and the suspects will face charges of violating the National Curfew as well. The current Thai National curfew runs from 10:00 PM to 4:00 AM.
Law Enforcement also told The Pattaya News they will likely be pressing emergency decree charges against the villa owners as well for illegally renting the villa at a time when all hotels and similar venues are supposed to be closed.