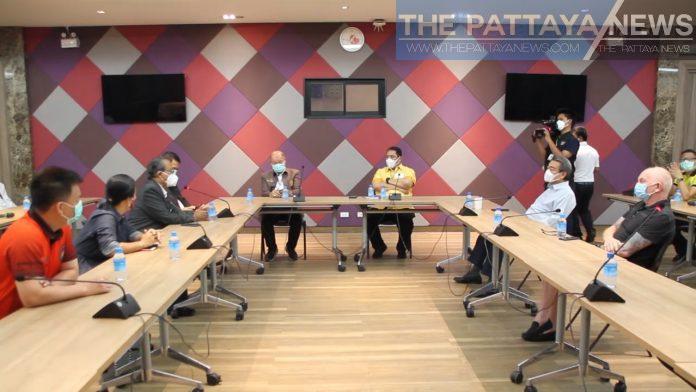 Pattaya-
Pattaya City Mayor Sonthaya Khunpluem confirmed to the Pattaya News and associated press today that City Hall will be arranging a meeting and sending a letter to all prominent landlords in Pattaya City to encourage them to work with many businesses that have been force closed for approaching two months on rent and other bills.
Mayor Khunpluem stated that at a previous meeting with many prominent business owners of major entertainment venues such as bars, nightclubs, lounges, karaoke establishments and other places that remain closed that one of the biggest concerns was landlords being unable or unwilling to extend discounts or waive fees to a later date due to the current closure.
This meeting, which also covered owners gathering ideas and possible rules for a future re-opening of the entertainment industry to be delivered to the CCSA in Bangkok (Covid19 Center for Situation Administration) was covered here:
Pattaya City Entertainment venue owners meet to discuss suggestions for Covid19 safety measures for potential reopening
Mayor Khunpluem has stated that the Pattaya City Hall agrees that landlords forcing business owners out of their venues due to no fault of their own with all entertainment venues currently closed under order of the government is unacceptable, especially in cases in which a landlord allegedly will not even agree to a discount or paying the amount in full at a later date. He said that he truly believes that landlords and owners, as well as tourists and residents, all want to see Pattaya successful and vibrant once more and that everyone must work together to do so.
He stated that he encouraged business owners who were having issues to touch base with City Hall and ensure they were aware of the situation, as they could not help if they did not know about the situation. To do so, one can call the city contact center at 1337 and request more information. City Hall is currently in the process of finalizing the timetable for meetings with prominent landlords and relevant associations to meet with them as a group and address the importance of working together in this current period.
Additionally, meetings with local entertainment venue owners are expected to be scheduled in the very near future to further discuss both landlord related issues and further brainstorm on regulations and policies to take place to safely open the majority of the cities economy and businesses. Pattaya is known around the world for its nightlife, tourism and hospitality industry and an estimated 80% of the cities revenue comes from this sector, which is all currently closed by order of the Thai Government.
Pattaya has had no cases of Covid-19 for 25 days, however, and according to City Hall discussions have begun with the government on what needs to be done to re-open the entertainment industry in the near future. This comes as many other business sectors in the country have been allowed to re-open with new rules and regulations with another expected round of openings due around May 17th.