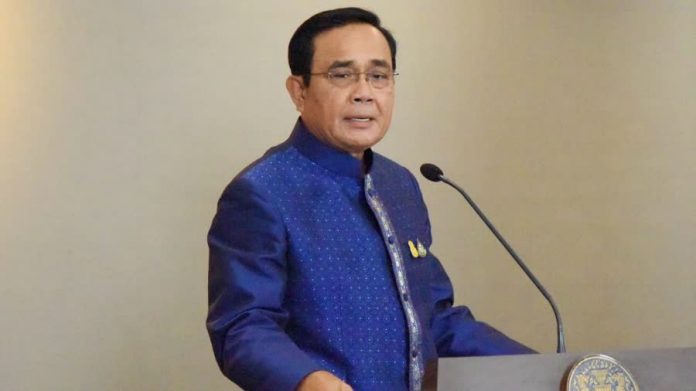 Bangkok-
The Thai Prime Minister, Prayut Chan-O-Cha, has responded to growing calls from public and private interests to re-open major parts of the closed economy in Thailand with a simple message delivered today-Please have patience.
Thailand has been in the single digits with new confirmed cases of Covid-19 for over a week now with one exception, and that exception and the majority of cases are imported, primarily from Thai returnees coming back from Malaysia.
As more provinces (Including Chonburi, where Pattaya is), record zero cases of the Covid-19 Coronavirus for weeks at a time and release their prior patients many people are clamoring for the Government to re-open more businesses, especially in hard hit areas like Pattaya and Phuket that primarily depend on tourism, entertainment and hospitality. In these areas, the majority of the population is still out of work due to force closures of entire industries.
The Prime Minister stated that the current plan was for the Covid19 Center for Situation Administration, or CCSA, to discuss and draft regulations and guidelines for opening more businesses and loosening further restrictions over the next several days and make announcements around Thursday of next week. The current date pinpointed for the second phase of re-opening the economy is Sunday, May 17th, although the PM cautioned these dates could change if there was a sudden increase in cases.
The next phase would likely re-open shopping malls and large department stores that are still closed across the country, The Prime Minister told the press.
Strict guidelines around physical distancing and rules around hygiene and protection from possibly spreading Covid-19 will remain and are part of the drafting process with the CCSA, the PM added.
High risk venues will need to take time to re-open and the country must ensure that the virus is no longer active in Thailand before doing so, the PM said, likely referring to the hospitality and entertainment industry.
The Prime Minister stated that re-opening closed factories, also planned for the next phase, was a significant part of getting the country back to work and the economy going. He briefly spoke about the tourism industry and said that the country must ensure it is safe and is a safe attraction for both foreign and domestic visitors. The PM also said all possible assistance would be given to those businesses and people who were in industries that remained force closed.
The Prime Minister also said that the curfew would remain in place from 10:00 PM to 4:00 AM daily until at least the current scheduled end of the Emergency Decree on the last day of May.