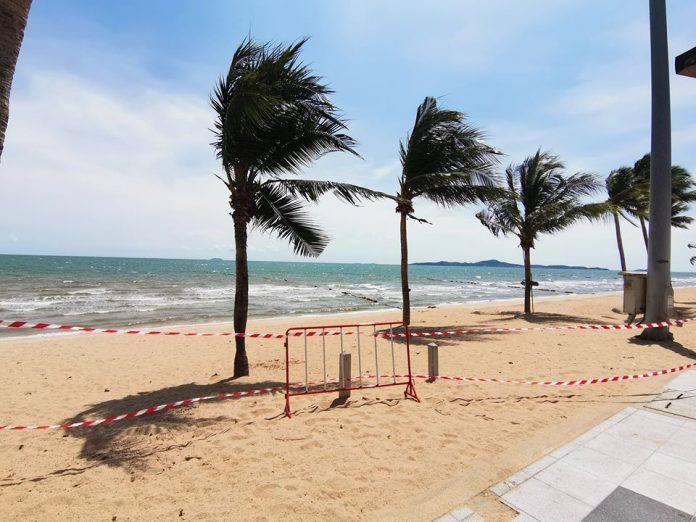 Pattaya-
Pattaya Police are in the process of taping off and "officially" closing all local beaches after an order from the Chonburi Communicable Disease Committee and Chonburi Mayor Sonthaya Khunpluem this week.
The beaches have been technically closed for weeks, however, the area has dominated many local and national headlines as people have been arrested for entering the area or claimed they didn't know the rules. The city of Pattaya has been under closure for the past several weeks with restrictive checkpoints blocking access up until this Tuesday, May 5th.
With the removal of the checkpoints as Pattaya has had no cases of Covid-19 in three weeks local and regional officials are concerned that domestic tourists and residents from other provinces that are not clear of Covid-19 just yet, like Bangkok, may swarm to the area beaches for lack of other activities, as nearly all entertainment venues, bars, clubs, tourist attractions, theme parks and malls are still closed nationwide. Due to this concern, officials have decided to completely tape off the area beaches and announce through the media that all beaches and beach related activities are closed in Chonburi.
This order will run through at least the end of May, which is when the current Emergency Decree order to help control the spread of the Covid-19 Coronavirus ends, according to Chonburi Mayor Sonthaya Khunplume.
The sidewalks and promenades next to the local beaches are open for exercise only effective tomorrow, according to Chonburi officials. This had previously been off limits as well. Pattaya Police warned, however, that sitting, gathering, loitering, socializing, drinking or eating in this area was strictly forbidden and only exercising was allowed. Pattaya Police said patrols would be stepped up on the beach areas to ensure people were not breaking this rule.
Responding to criticism posted from people online, primarily on Facebook, that the beaches were one of the safest places to be and that it was easy to socially distance the Chonburi Communicable Disease Committee has told the Pattaya News and associated media that the closure is to discourage travel and having people visit the beaches in droves from out of town. The measure will remain until the Covid19 Center for Situation Administration in Bangkok, or CCSA, and the Ministry of Public Health feels confident that there is no local spread in surrounding areas, especially Bangkok. Although Chonburi is now a designated white zone (free of recorded cases of Covid-19), Bangkok has not been deemed so yet.