Chonburi-
Chonburi Public Relations announced this morning that for the thirteenth day in a row the province has had no new cases of the Covid-19 Coronavirus.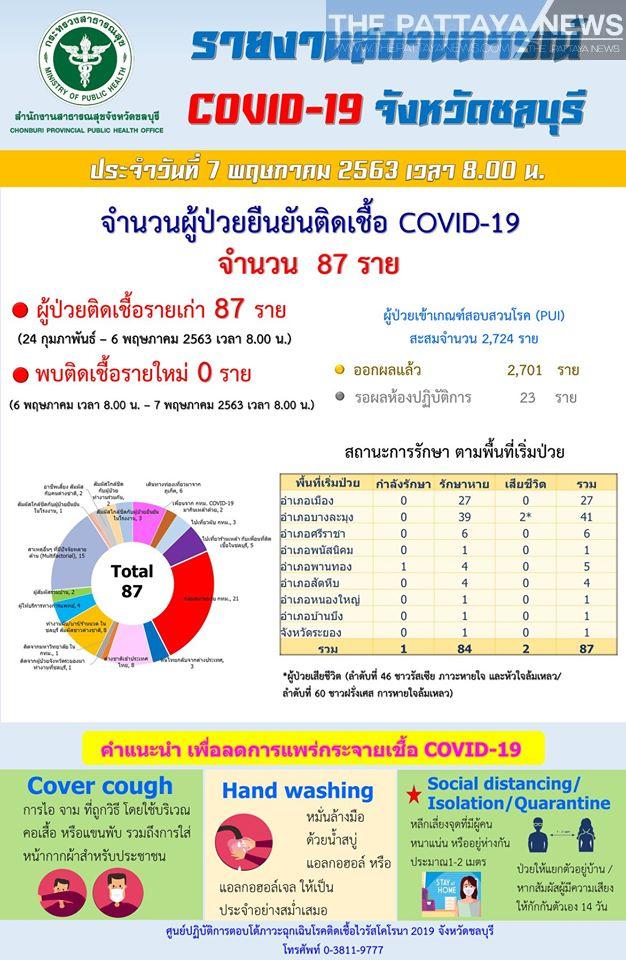 Additionally, as we posted in a separate article earlier, the last patients under treatment for the disease in Pattaya City, which have had no cases for over three weeks, were released and fully recovered from the field hospital at the Grand Bella in Pattaya yesterday afternoon.
https://thepattayanews.com/2020/05/07/last-five-patients-under-treatment-for-covid19-in-pattaya-released-pattaya-area-officially-covid-free/
The remaining patient is in a hospital in the Phan Thong area, which is a district in Chonburi in the far North, closest to Bangkok.
Chonburi has had a total of 87 patients since the start of the Covid-19 Coronavirus outbreak, with 84 fully recovered and released. The province had two confirmed deaths, both foreigners who were deemed imported cases having recently traveled from other locations.
23 people remain under investigation or quarantine, the majority of these are medical staff that worked with Covid19 patients and is out of strictly precaution.
Pattaya is now considered a white, or covid free zone, by Thai government authorities. However, the vast majority of businesses remain force closed as the Government stresses patience and that re-opening Pattaya and its massive entertainment industry will need to be a careful and cautious process, despite the apparent lack of Covid-19 cases and closed borders.