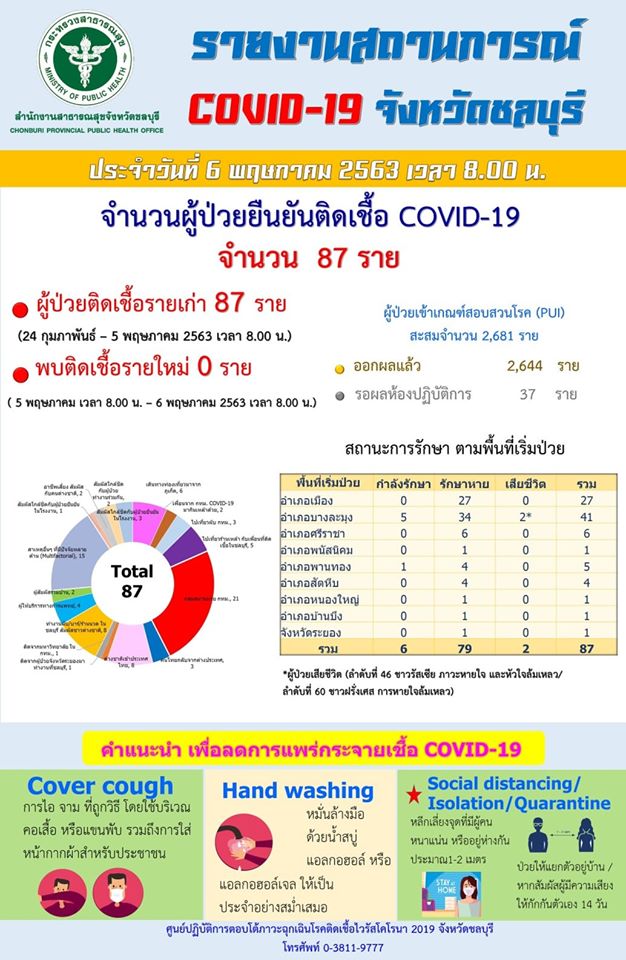 Chonburi-
Chonburi Public Relations announced this morning that the province, which is where Pattaya is located, reached twelve days in a row with no new confirmed cases of the Covid-19 Coronavirus.
Additionally, two more patients, one in Mueang Chonburi and one in Phan Thong, were released and fully recovered from the Covid-19 Coronavirus.
As of this morning, only six patients remain in local area hospitals for treatment of the disease, with five of those being in Banglamung, the district that contains Pattaya. The other remaining patient is in Phan Thong, close to Bangkok in the North of Chonburi province.
There have been no new confirmed cases in Banglamung since April 19th, and in Pattaya City proper for over three weeks.
Chonburi has had a total of 87 cases since the start of the Covid-19 outbreak in the area earlier this year, with 79 of those cases recovered. There were two deaths, both foreigners with imported cases who had recently traveled from other locations.
Thirty Seven people are currently classified as patients undergoing investigation, which means they are either being tested or are deemed high risk, such as living or working in a location with a previously confirmed case of the virus.