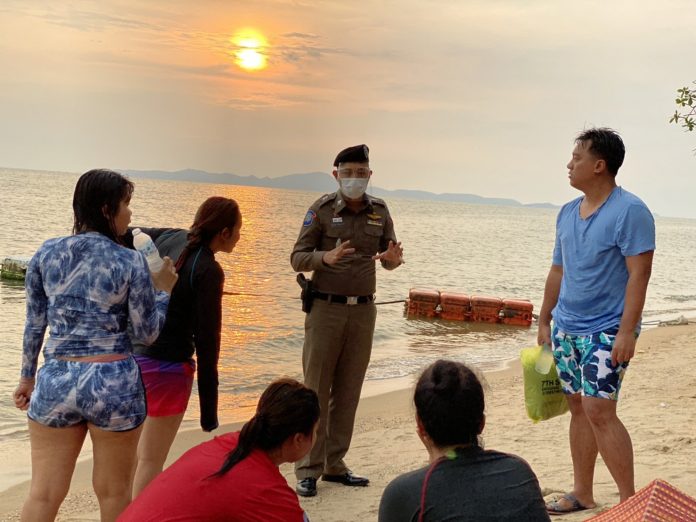 Chonburi-
Yesterday afternoon The Pattaya News attended a meeting with the Chonburi Communicable Disease Committee in which they discussed area beaches and the current closures that have led to criticism online from some local residents.
Chonburi area officials, led by the Chonburi Governor as well as Pattaya Mayor Sonthaya Khunpluem, explained in depth why the beaches would remain closed until further notice, although it was agreed that exercise on the sidewalks and promenades surrounding the beach would be allowed after weeks of a technical ban that even resulted in the arrest of multiple Thai's and foreigners.
Altough Pattaya has had no cases of Covid-19 in just over three weeks and Chonburi has had no cases in almost two weeks, the largest concern from area officials is that people will be tempted to cross provinces to travel to the beach. Bangkok is still considered an active infection zone by the Covid19 Coronavirus Situation Administration, or CCSA, and had its last confirmed case only two days prior. The CCSA has asked all Provincial governments to ensure that they do not have potential temptations or reasons for people to want to make non essential travel at this time until the situation is resolved in the majority of the country. This is also why theme parks, malls, national parks, nightlife venues, etc. are closed in all areas and not just places with ongoing infections.
The closure of beaches, according to the Chonburi officials, is primarily to discourage travel from both cross province and from cross district.
Officials responded to criticism online or reports of individuals arguing with law enforcement officers that the beach was perfectly safe to socially distance or that one could go swimming and have no risk of spreading the virus by reiterating the point that although they feel Chonburi is a white zone and not an active area of infection, they do not want to take any risk of having people hearing beaches are open and take day trips to the area. The officials admitted that it was a difficult situation as keeping the beaches closed kept hundreds, if not potentially thousands province wide, of low income workers out of work who normally work as vendors, massage therapists, beach chair vendors and water sports vendors but that all of these activities were either currently prohibited or discouraged.
The closure is also, they added, to discourage gatherings and socializing at this time. With nearly every business designed around socializing closed or heavily restricted, more people than usual were attempting to visit the beach, raising concerns of gatherings. Under the current Emergency Decree in effect from the Thai Government to help control the spread of the Covid-19 Coronavirus, any sort of gathering meant for socializing, especially with alcoholic drinks, is against the law. Drinking and eating on beach areas is also currently against the law.
Chonburi officials, responding to criticism that some beaches in other provinces were open, stated that it was a provincial decision and that many of those places were either not close to areas with active infections as Chonburi is with Bangkok or were islands that did not have the possibility of people crossing provinces to go to the beach.
The beaches will remain closed until further notice, likely at least the end of May, Chonburi officials concluded at yesterday's meeting.