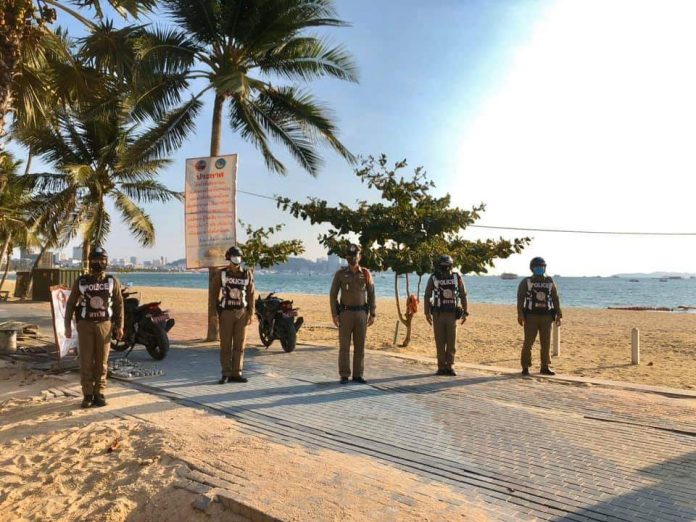 Pattaya-
Pattaya City Law Enforcement and city leaders confirmed that after a meeting this afternoon they would be slightly easing some restrictions on area beaches effective as of May 9.
Starting on Saturday, May 9, exercise such as running, biking and walking is officially allowed on the sidewalks and promenades surrounding all area beaches, such as Jomtien, Pattaya and Naklua. This follows weeks of a technical ban but the city facing various difficulties enforcing the ban. This also resulted in several arrests and complaints on social media from area residents.
Law Enforcement will still be strictly patrolling local beaches, however exercise is allowed effective Saturday.
Running or walking on the sand is prohibited still, as is swimming at this time.
Any sort of activity involving gathering, drinking, socializing, eating, group exercise, standing around for long periods of time without exercise or loitering is also prohibited.
All beach activities like sports, sunbathing, games or anything on the sand is still off limits, law enforcement clarified.
However, to the relief of likely many residents, pure individual exercise will be allowed starting Saturday on the promenade and sidewalk areas of local beaches.
Pattaya City Law Enforcement also posted about this here:
https://m.facebook.com/story.php?story_fbid=901854403612479&id=525117804619476