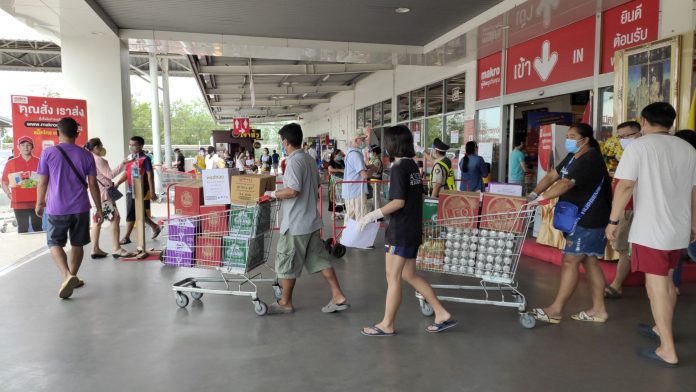 Chonburi-
Local residents flocked to supermarkets and department stores this morning, some lining up well in advance of the legal selling time of alcohol at 11:00 AM, to purchase alcohol today across the province of Chonburi after the national and local government allowed sales for the first time in about three weeks.
Here is a video our team took:
The ban on alcohol sales has been an area of contention for days now as the Thai government has seemingly gone back and forth on whether to sell alcohol or not several times despite the majority of the public seeming to be against the ban based on vehement social media comments.
However, the Thai Government decided to reverse any national ban over the weekend and allowed provincial governor's to make the decision on if they would allow sales of alcohol once more. Some provinces kept the alcohol ban, like Sa Kaeo and Buriram, but Chonburi decided to allow sales.
The decision came nearly last minute with a post at 6:30 AM this morning from Chonburi Public Relations stating no decision had no yet been made. However, at around 10:00 AM orders were published allowing the sale.
The reason for the ban, according to authorities, was concern over people throwing parties and having gatherings which could potentially spread the Covid19 Coronavirus.
Hundreds crowded into local stores, raising concerns online about physical distancing, as people stormed the stores to purchase booze. Many were apparently small shop owners restocking their own shops after weeks of no deliveries or sales being allowed.
Sales of alcohol are for take away only and one cannot drink in restaurants which also opened today, at least in terms of smaller venues. Public drinking also remains against the law at this time and people can only drink from the comfort of their own home.