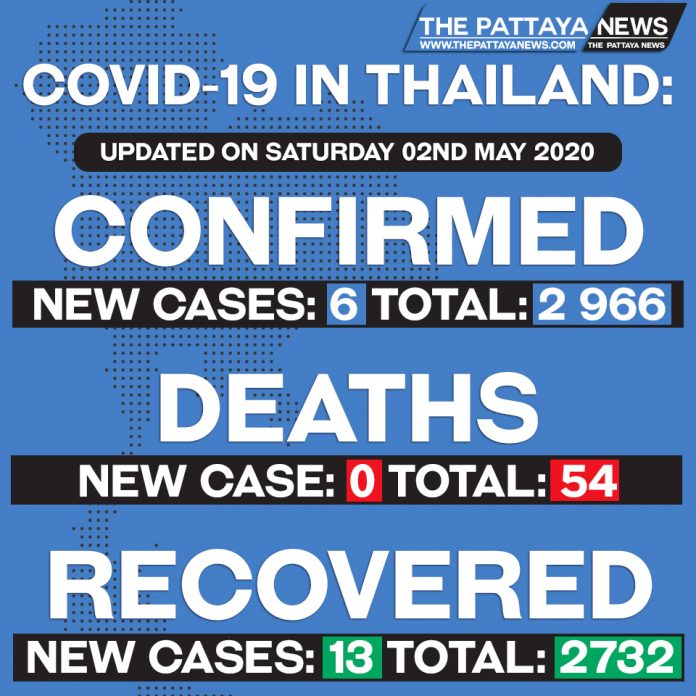 Thailand-
The Spokesman for the Covid-19 Center for Situation Administration, Dr. Taweesin Visanuyothin, announced this morning that six new cases of the Covid-19 Coronavirus were discovered this morning in the country, with two of them being in state quarantine and being "imported" from recent Thai citizens returning overseas.
The four locally spread cases were in Bangkok and Phuket.  Two of the cases were from close contacts of previous confirmed cases and the remaining two cases were from proactive testing taking place in the Phuket area.
Thailand currently has had a total of 2,966 cases since the start of the Covid-19 outbreak earlier this year. Of those, 2,732 have fully recovered and been released from the hospital. Only 180 patients remain in hospitals under treatment for the Covid-19 disease in the entire nation.
There have been 54 deaths due to the Covid-19 disease in Thailand, with none announced in the past several days.
Chonburi, where Pattaya is located, has had no new cases in eight days, with Pattaya City proper approaching almost three weeks without a single new case, despite regular proactive testing and case finding in the city.
Pattaya City plans to end the checkpoints currently restricting access to the city effective May 5th if the current trend with zero new cases continues.
Thailand, meanwhile, is set to begin easing some of the strict restrictions around the control of Covid-19 starting tomorrow, allowing dine in restaurants and parks to re-open, among other measures, with strict levels of hygiene and control.