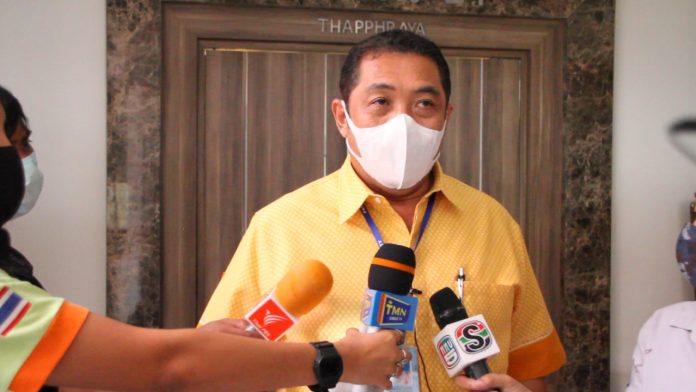 Pattaya-
The Pattaya City Mayor spoke with The Pattaya News and associated press this afternoon following a meeting at City Hall about measures being taken during the Covid19 Coronavirus crisis to help hundreds of entertainment venue operators in Pattaya whose businesses have been force closed due to the situation.
The Pattaya City Mayor Sonthaya Khunpluem told The Pattaya News this afternoon "Chonburi has now been designated as a white zone, after previously bring a red zone for Covid19 as there have been no new cases for almost 14 days."
"For now, however, based on the National control measures of Covid-19 entertainment venues in Pattaya are not allowed to open regardless of the improved situation and it may be several weeks before this can happen. We are well aware that Pattaya has a larger number of closed venues than the rest of the country, with hundreds, (some reports say thousands) of venues currently ordered closed across the city. They have been closed since March 18."
The Mayor stated that during a recent survey it was found that about half of the landlords in the city, 50 percent, were refusing to give discounts on rent or even speak to their tenants which the city leadership finds unacceptable during this time of crisis when everyone should be working together. Additionally, several businesses have closed entirely and he says this is not good for the city nor it's nightlife and tourism industry known across the world.
The Mayor said that city leaders know that this situation will not be magically resolved when venues can open as international flights are still banned and it will take months for tourists to begin to be able to return, which is the majority of the customer base for the cities entertainment industry of bars, lounges, nightclubs, Gogos, tourist attractions and other entertainment venues. Therefore, the city will be taking the best actions they can to help ensure business owners during this crisis are not being wrongly removed from their premises when they cannot open for business. The Mayor admitted, however, that they were unsure how much exactly they could do to assist.
The city said the Mayor will be acting as a Goodwill ambassador between business owners and landlords in cases of disputes and to help reach acceptable resolutions for both parties when disputes take place.
The Mayor and City Hall has asked that all entertainment venue owners who have disputes with their landlords to contact city hall at 1337, the city hall contact center. They will be informed of the next meeting around this matter. They will need to bring all relevant business documents, including their current lease and any rental contracts to City Hall for review.
The Mayor said that if help is not provided to the entertainment industry in Pattaya it could see many people lose their livelihoods and many Thai people lose their jobs and City Hall would work to prevent that.
City hall is also looking into alcohol tax issues for business owners, as well as addressing land and sign tax issues.
Finally, City Hall is gathering ideas from all entertainment business owners on how they could open their business safely with physical distancing guidelines and strong hygiene rules. They would like all interested business owners to speak with City Hall to help put together lists of guidelines that will be sent to the National level of government to help reopen the city. All ideas are welcome.
Some ideas brought up are medical screening zones at nightlife areas such as walking street and Soi 6, temperature checks at all venues, limiting numbers of clients who enter, staff wearing masks, etc.
Another meeting is scheduled at 5PM Saturday at Hollywood in Pattaya for concerned business owners.