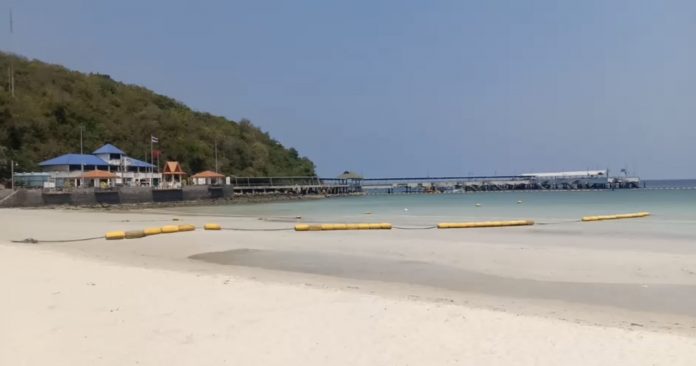 Koh Larn-
The residents of Koh Larn, an island normally known for its scenic beaches and one of the largest tourism attractions in the Pattaya area has now been closed to the public for a little over a month after a decision by the local residents to help protect the island from Covid-19.
Before the closure the island was getting as many as 5,000 to 10,000 tourists and mainland residents a day, even during the current crisis. Fears began to increase though as cases in Chonburi ticked upwards and the decision was made to close the island and  was subsequently approved by the Chonburi Governor.
Here is our article about the prior closure of the island:
Koh Larn residents vote yes to close island to all visitors to protect island, will be presented to Pattaya Mayor and Chonburi Governor for review
Despite the thousands of tourists that previously visited the island daily, it appears Koh Larn "dodged a bullet" as not a single case of Covid-19 was reported on the island. Several residents were tested recently during proactive testing in the Pattaya area and all tests from island residents were negative.
Pattaya, as of today, has had no cases of Covid-19 in slightly over two weeks and has recently changed designation from a high risk zone to a low risk zone for Covid-19 infections.
However, Koh Larn residents at this time have decided that it is too early to allow non residents to visit the island and with all beaches in the province ordered closed it would not be beneficial for anyone to do so.
Representatives from the island have told the press that the villagers of the island, whose permanent residents number several hundred, have been getting regular support from the City for supplies and rice and many have returned to traditional ways of earning a living and surviving, fishing off the coast of the island.  The island's environment has started a recovery after many years of heavy tourism and the local waters and beach are showing marked improvements.
The island will provide more transportation to and from the island for permanent residents as opposed to one boat a day, early in the morning. This will allow more villagers to get errands and tasks completed. Several options will be available for villagers to visit Pattaya and Chonburi. Before, during the height of Covid-19 in Pattaya, villagers were urged to stay on the island and away from the mainland.
The villagers will meet later this month to discuss re-opening the island on a limited basis to non-residents but it will be dependent on the situation as well as orders from the Governor in regards to beaches. The Governor of Chonburi has given his support for villagers to more freely travel to and from the island as the immediate threat in Pattaya has diminished from Covid-19.