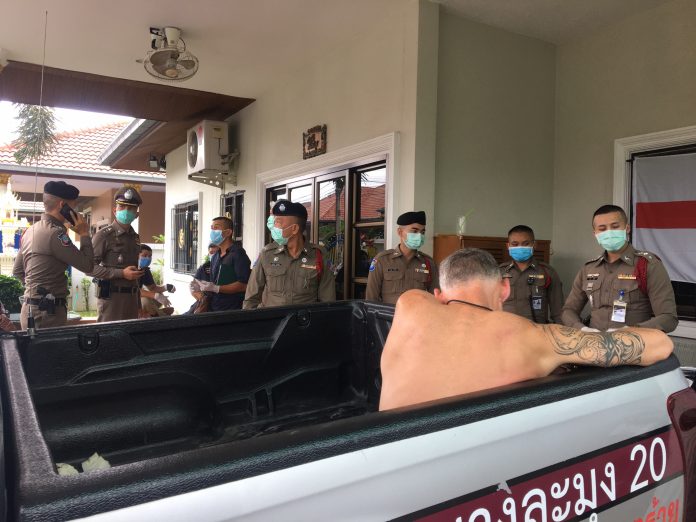 Pattaya-
A 48 year old man named as Mr. Neil Henry Elliott, who is reportedly from Northern Ireland, was arrested in the Eak Mongkol housing estate in Banglamung at 1:00 PM this afternoon and charged with homicide for the alleged murder of a Thai woman who is believed to be in her late thirties.
Banglamung Police upon responding to the call found a broken wooden stick and a 60 centimeter long machete covered with blood at the villa that allegedly is occupied by Mr. Elliot.
A video of the aftermath of the incident is here:
Inside the bathroom of the villa Banglamung Police found the body of a Thai woman who was identified only as her nick name 'Onn' and is believed to be around 35-40 years old.
Slash wounds were found on her neck and right wrist, according to medical technicians present at the scene of the incident.
Mr. Elliott allegedly told Banglamung Police that he had met Ms. On walking down Soi Buakhao the night before and invited her to his villa for drinks and to relax. He also is alleged to have admitted to police that the two consumed illegal drugs together at his villa along with alcohol, described by one police source as methamphetamine.
Mr. Elliot told police that they had a verbal dispute that became physical this morning. The exact specifics of what the dispute was regarding were not revealed to the press.
Mr. Elliott claims that Ms. On attacked him first with a wooden stick and he used the machete to defend himself, which resulted in her death.
Following the altercation Mr. Elliott took a motorbike from his villa and went for a drive heavily intoxicated, crashing and suffering minor injuries and being taken to a local Pattaya hospital.
Mr. Elliott began shouting and screaming that he had just murdered a woman according to hospital staff. They contacted police who accompanied Mr. Elliott to his villa where the corpse of Ms. On was discovered. Mr. Elliott was described as cooperative with Banglamung police.
Police are continuing their investigation for further legal action. Mr. Elliott remains in police custody. The Pattaya News will provide further updates to this story as they come in.