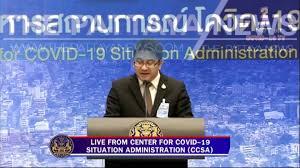 Bangkok-
Thai Government spokesperson Mr. Natapanu Nopakun spoke at a Covid19 Coronavirus Situation Administration (CCSA) briefing today about foreigners with valid Visas who were trying to return to Thailand.
These foreigners were not tourists, generally were long stay residents who were out of the country during the Covid19 crisis and are now stuck in other nations. In many cases these foreigners hold valid work permits and work visas, have family and marriage visas and have been living in Thailand for many years as their primary residence or sole provider for their family.
In some cases these foreigners are overseas with their Thai family and attempting to come home. In these cases the Thai citizens are allowed to come back but the foreigner, despite valid visas, family and willingness to enter quarantine and follow rules, is not.
Mr. Nopakun said the Government is aware of this issue and the CCSA is discussing possible solutions. However, the current ban on international flights except for repatriated Thai citizens extends until the end of May. Unfortunately, at this time no foreigner will be allowed to enter the country via air until at least June. Land borders are also currently closed to non repatriated Thai Nationals.
He did, however make sure that the foreign public is aware they are listening and are looking for solutions in the future to potentially bring some of these foreigners home.