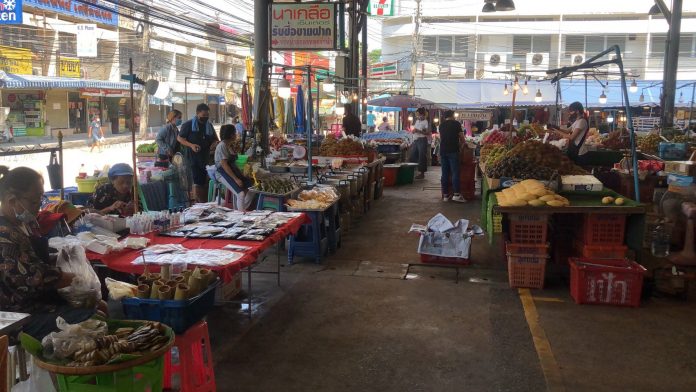 Chonburi-
The Chonburi Public Relations Department noted this evening that any decisions on easing Covid-19 and Coronavirus restrictions or re-opening businesses in the hard hit province will be the choice of the Chonburi Governor, as long as National Emergency Decree guidelines are followed.
The Covid-19 Center for Situational Administration Spokesman, Dr. Taweesin Visanuyothin, stated this afternoon that the Emergency Decree to control the Covid-19 Coronavirus will be renewed, although the formal and official decision will take place at a scheduled Thai Government Cabinet tomorrow afternoon. For more on this, please see below:
An explanation of the extension of the Emergency Decree and why it means many measures will likely still be eased and many businesses allowed to gradually re-open
However, the Emergency Decree only sets several national conditions and rules, such as the National Curfew from 10:00PM to 4:00AM, some domestic travel restrictions, banning of mass gatherings and ban on International arrivals. The Thai National Government has made it clear that although they have created color coded guidelines for provinces on what businesses can open and what restrictions can be eased that the ultimate final decision falls on the local Provincial Governments.
The original post, in Thai, can be found on Chonburi PR's page here:
https://web.facebook.com/ChonburiPr/
The Chonburi Government, however, has said they are assessing the situation and conducting meetings with local leaders across the province, including Pattaya. The Chonburi Government says that they understand the situation, especially in Pattaya City, where an estimated 80% of the city is out of work and some charity food lines have stretched into the thousands as most businesses remain closed. Pattaya is known across the world as a top tourism and nightlife destination but due to the Covid-19 Coronavirus has been essentially closed for business since mid March, putting tens of thousands out of work locally.
Nationally, as many as fourteen million people may be temporarily out of work, according to social welfare experts, due to the current measures in place.
A decision on what, if any, restrictions will be eased and businesses opened is likely to come early this week as all current closure and restriction orders in Chonburi expire on April 30th according to the Chonburi Government. Local and Provincial leaders say they are taking into account the opinions of both local business owners and medical experts before making any decisions and not letting any public pressure sway their decisions on what businesses may be opened or not.
Chonburi has had a total of 87 cases of the Covid-19 Coronavirus since the start of the outbreak and two deaths. Pattaya has had no cases in roughly nine days and only four cases in 17 days, all attributed to an imported case from Phuket and their close contacts.