Banglamung-
Police are now hunting for a curfew breaker after a pickup truck accident in Banglamung.
The Banglamung Police was notified of the accident at 10:15PM Friday night on the side of the road near the Krating Lai Intersection on Road No 36.
The Pattaya News arrived at the scene to find a white pickup truck 200 metres off the road. Its front hood and bumpers were damaged. Police had arrived at the scene just shortly after the accident.
The pickup truck owner, 42 year old Jamras Srida was found at the scene.
Mr. Srida told The Pattaya News that he and his friend (The driver) had been drinking together in a secluded area prior to the incident and lost track of time, attempting to rush home before the Thai National curfew.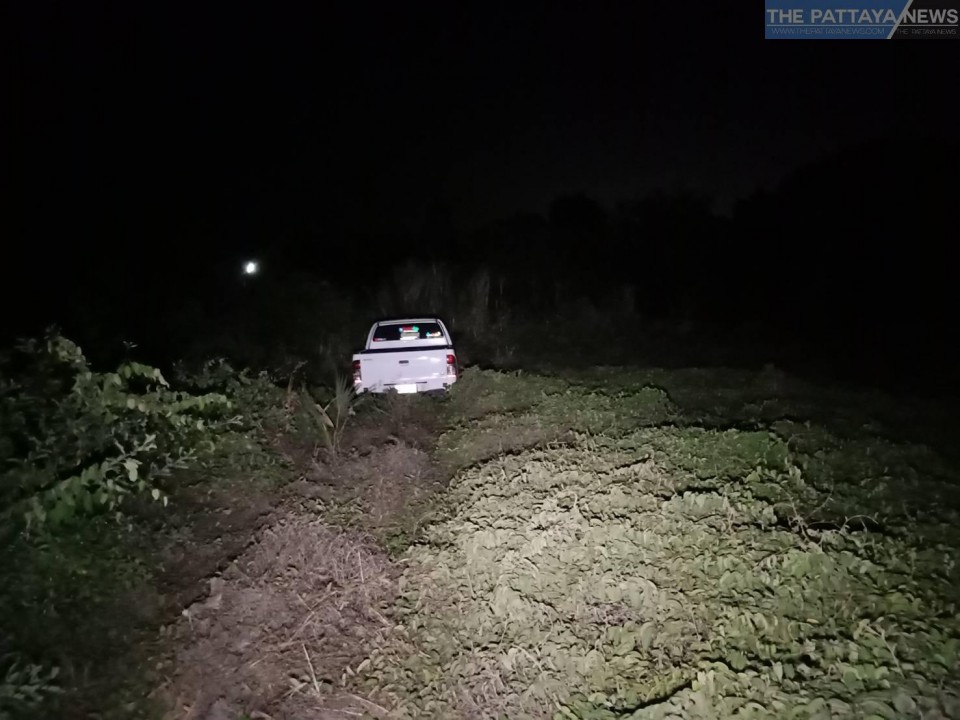 Mr. Srida had allowed his friend to drive as he had believed that the man was less intoxicated. Mr. Srida claimed to police he did not know the full name of his friend.
The suspected driver was allegedly driving at high speed before losing control and veering off the road. Luckily, no one was injured. Banglamung Police witnessed the accident as they had been following the suspected curfew breakers.
Banglamung police are hunting for the driver who fled the scene into woodlands nearby after he saw police approaching. Police did not comment on what, if any, charges the owner of the vehicle will face, although they mentioned that Mr. Srida was cooperative with the police. CCTV will be reviewed in the vicinity of the accident in hopes of identifying the suspect.
In Thailand, a current National Curfew is in effect from 10:00 PM to 4:00 AM which carries stiff fines and prison sentences for those who choose to violate the rule. Fines range up to 100,000 baht and prison sentences can be up to two years. Sales of alcohol are banned under the current rules meant to control the spread of the Covid19 Coronavirus and drinking in outdoor social settings or gatherings, as the owner of the truck admitted to doing, is also banned.