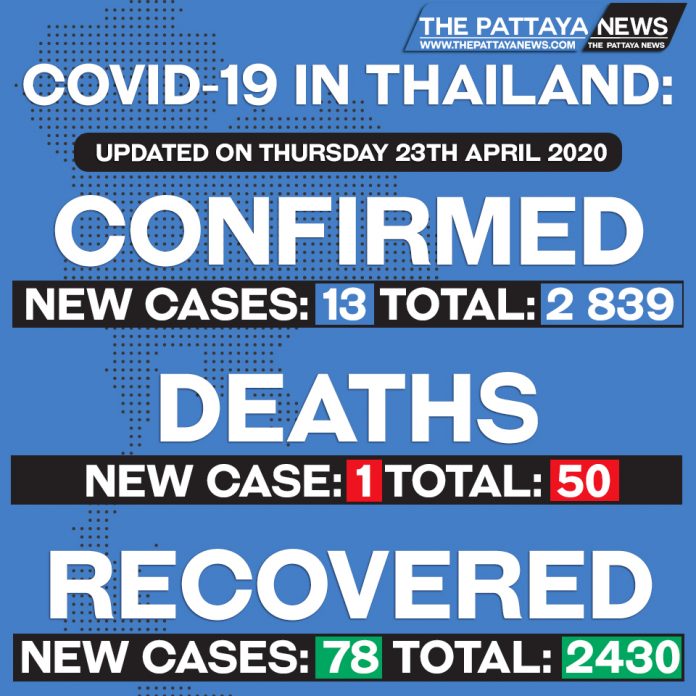 Bangkok-
The Center for Covid-19 Situation Administration (CCSA) has announced thirteen new confirmed cases of the Covid-19 Coronavirus this morning at their daily press conference.
They also announced one additional death which brings the total of deaths in Thailand to 50.
78 more people were released from the hospital and completely recovered from the disease.
The total number of people who have now recovered in the country is 2,430.
At this time only 359 patients remain in hospitals under treatment for the virus in Thailand.
Despite the low numbers of new infections and high numbers of recovered patients, Thailand's Prime Minister, Prayut Chan-O-Cha, has stated that the country will not be rushing to lower its guard and loosen restrictions until the government is sure that they will not face a possible second wave.
This comes as a growing number of voices from the public and private sector have asked the government to reopen businesses and loosen restrictions that have put an estimated ten million people out of work and closed tens of thousands of businesses across the country.
In Pattaya, which is highly reliant on the closed entertainment and hospitality business, an estimated eighty percent of the city is currently out of work with most businesses in the city proper closed. This has led to long charity lines and increasing numbers of homeless, alarming social welfare officials.
The CCSA is expected to meet next week to discuss extending an emergency decree to help control the spread of Covid-19 which has currently led to a nationwide curfew, travel restrictions and other items. Despite the low cases it is widely believed that the decree will be extended.