Pattaya-
Hungry Now, a new local food delivery service in Pattaya, has come together with its food vendor partners to offer daily free charity food events in the city during the current Covid-19 Coronavirus crisis. (A schedule is at the end of this article)
The crisis, which has put tens of thousands out of work and shuttered an estimate of roughly 80% of the business in Pattaya, a city which is known around the world for its nightlife and hospitality industry, has seen many different local entrepreneurs step up to assist those most in need.
One of those is Hungry Now, a new local food delivery service with low prices, reliable and timely service and English speaking staff who are based in Pattaya and able to assist their customers. This is a video of one of their recent donations.
Hungry now has provided The Pattaya News with an upcoming schedule of their charity food events which can be found below. Additionally, as in the preceding video, Hungry Now also send its drivers across Pattaya to specifically find the homeless and individuals most in need during this crisis and offer them free meals.
For more information on Hungry Now, (Or, if you are hungry, now) check out their website below. Hungry Now is an official partner with The Pattaya News. They are also available on both the Google Play store and Apple store. Hungry Now is a Thai based company and owned and operated locally, unlike some competitors, and are dedicated to serving and assisting the local community. Their drivers are experienced with the local roads and community and there is always an English speaking operator to answer questions and help resolve any problems. Hungry Now is also dedicated to updated and correct menus in both English and Thai and building positive local partnerships with local restaurants and business owners.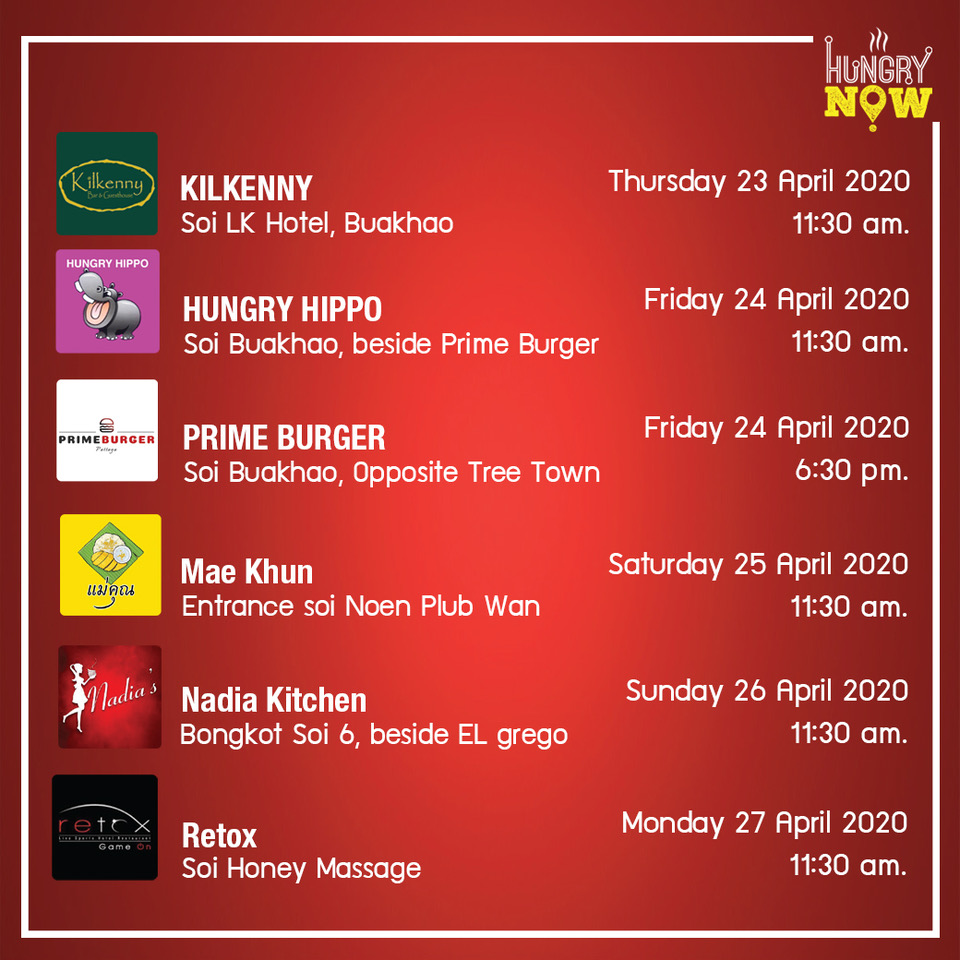 Please visit them below: