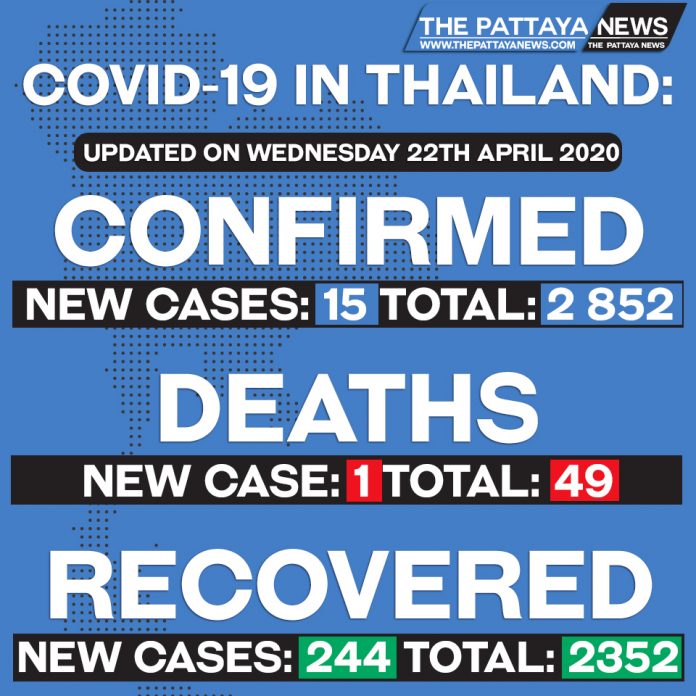 Thailand-
The Thai Government, led by the spokesperson for the Covid19 Coronavirus Situation Administration (CCSA), announced fifteen new confirmed cases of the Covid-19 Coronavirus this morning in Thailand.
This is the smallest number of new cases in over a month and appears to show that Thailand is continuing to reduce new infections and make significant progress fighting the virus, according to Dr. Taweesin Visanuyothin, the CCSA spokesperson.
The total number of infections in Thailand since the start of the outbreak is 2,852.
Dr. Taweesin also stated that 244 people had recovered and had been released from hospitals from the Coronavirus in the past 24 hours. Only 425 people remain in hospitals for treatment of the virus around the country.
There was one additional death, bringing the total number of deaths in the country to 49. The victim was a 58* year old maid with multiple prior serious health conditions who had been in the hospital since mid March.
As the number of both new and active cases reduce daily the Thai public is increasingly asking to reduce restrictions on closures of businesses, movement, curfew and other actions taken by the government to control the spread of the Covid19 Coronavirus. An estimated ten million people are out of work in the country currently with tens of thousands of businesses force closed due to the restrictions.
However, Dr. Taweesin stated that he understood the public's concern and the situation, with viral videos and photos of thousands of unemployed lined up at food charity events dominating many media sources over the past few weeks. He cautioned that although the numbers were encouraging the Nation could not let up their guard at this time.
The CCSA is looking into possibly easing some restrictions, however those decisions will not be made until likely next week at the earliest, Dr. Taweesin added. Several plans have been floated around and discussed but none of them, despite avid debate on social media, was official.
*Correction-An original version of this article named the age of the victim as 50. Her age was 58.