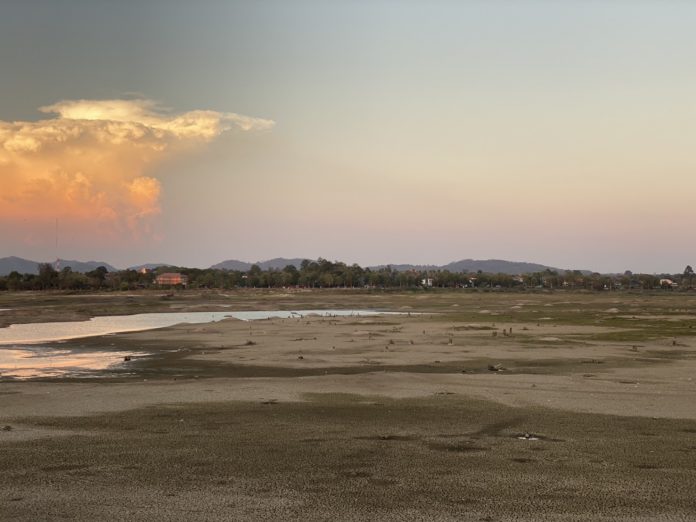 Banglamung-

A major water reservoir in Banglamung has hit its base level and is at critically low levels. However, Banglamung Water Authority Officials say they have developed an extensive plan to handle the drought.
The Pattaya News has visited the Mapprachan Reservoir in the Pong sub-district this week where water has about hit its base and is at a critically low level. Additionally, despite the reservoir and surrounding parks and exercise areas officially being closed to promote social distancing, Banglamung officials say many people are still wandering the local lake and nearly empty reservoir.
Mr. Chaitat Insang, the manager of the Pattaya Water Authority told The Pattaya News that "There is significantly less water this year as opposed to the previous year."
The Pattaya News note that this is from a variety of factors, not lack of rain, such as significant climate change and diversion of water traditionally supplied to local households to businesses and work being completed in the region on the Eastern Economic Corridor project.
An article sourced from The Diplomat, below, provides more detailed information about the water problems Thailand is facing.
https://thediplomat.com/2020/03/thailands-big-water-challenge/
"We have decreased overall water pressure and distributed water on rationing schedules for the time being." Mr. Insang added.
The Pattaya News has recently provided this water rationing schedule which can be found below for local residents to reference.
https://thepattayanews.com/2020/04/16/provincial-water-authority-understands-dire-water-shortage-gives-current-scheduled-distribution-of-water-times/
Mr. Insang stated that the water rationing would be required until the upcoming rainy season. Regardless, to avoid the same situation in future years, significant planning and partnerships must take place, local PWA officials have stated.
As for the large amount of people exercising and present in the reservoir area during a period in which the area is ordered by the Chonburi Governor to be closed to promote physical distancing, additional law enforcement resources will be assigned to the area for routine patrols, according to Pattaya Law Enforcement.