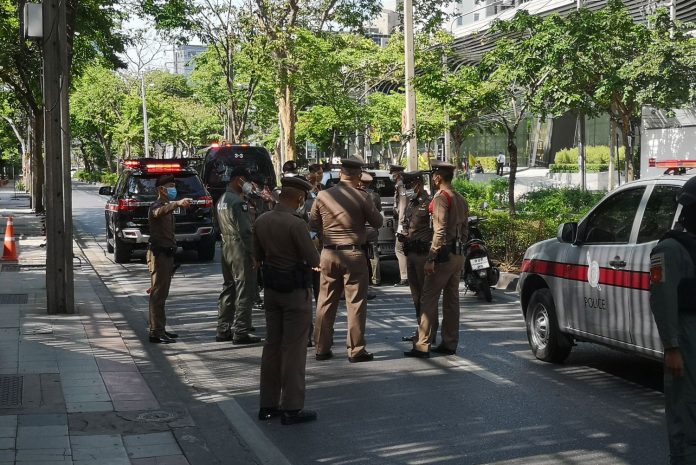 Bangok-
An American citizen, who is a previous active duty enlisted US Marine, was arrested in Bangkok this afternoon in front of the US Embassy by Lumpini police after placing a package described by police as suspicious in front of the building.
The man, whose name was withheld by The Pattaya News in accordance to our policy with suspects suffering from potential mental illness, was detained by security and Lumpini Police who called a bomb squad to investigate the package.
The package was found to contain a Thai statue, a bottle of flavored water and three batteries wrapped in paper, along with several statements that, according to Noppha Thongbor, deputy investigation chief at Lumpini, were incoherent.
The American was previously arrested in late March in Pattaya in an incident that we covered locally in which he allegedly caused a public disturbance on Second Road near the Avenue shopping mall. Our original article, and video, on that incident can be found here:
American man arrested after public disturbance in Central Pattaya screaming about the Coronavirus, had a tazer and gun shaped lighter with him
The man has been living in Chonburi for at least several months, according to Lumpini Police. It is unclear what the resolution of his previous incident with the law in Pattaya was, in which he alleged he had come from the future to save the world from the Coronavirus, according to video taken and multiple witnesses.
The man was taken to Somdet Chaophraya Hospital for a psychiatric examination, Lumpini police told the press. No charges had been pressed against him so far and officials from Veteran's Affairs, as well as his family have been contacted regarding the incident.
Photo: Bangkok Post.