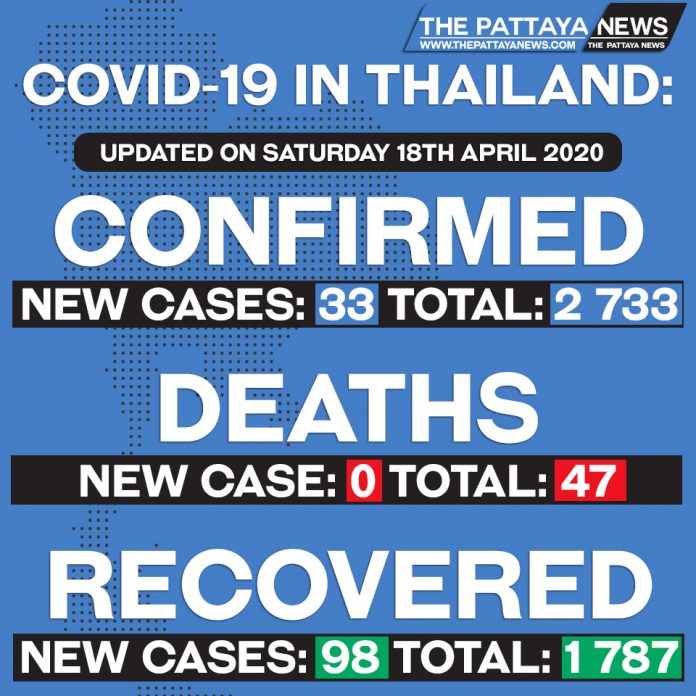 Bangkok-
The Thai Government, in an announcement delivered by the Covid19 Coronavirus Situation Administration Center (CCSA) and their spokesperson Dr. Taweesin Visanuyothin, informed the public today of a total of 33 new confirmed cases of the novel Covid-19 Coronavirus.
There were no additional deaths reported in the past 24 hours.
This brings the total number of cases in the country to 2,733 since the start of the outbreak in Thailand in January. There have been 47 recorded deaths in total attributed directly to the COVID19 Coronavirus.
In encouraging news according to the CCSA a total of 1787 people have fully recovered from the virus with 98 of those in the past 24 hours being released which is now outpacing new infections.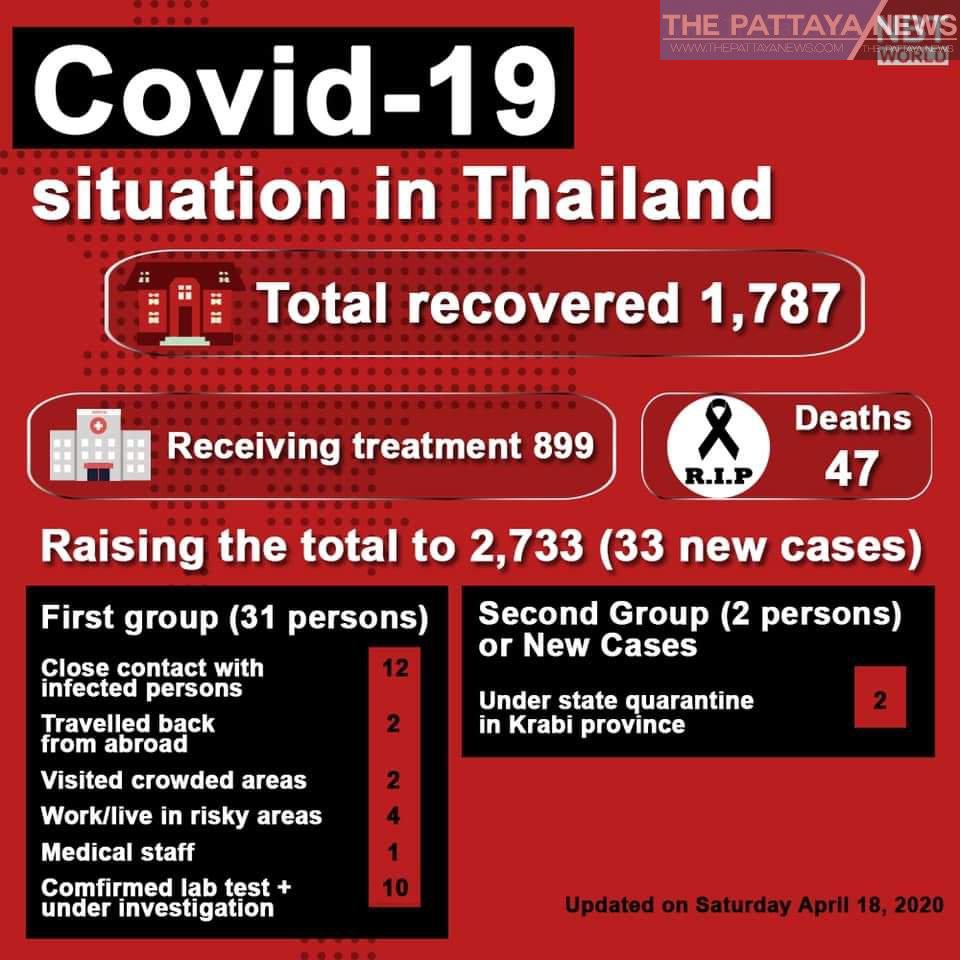 Of yesterday's cases the majority were close contacts of previous confirmed cases. Several people in state quarantine who recently returned to the country through various repatriation efforts also tested positive in Krabi. All Thai Citizens returning to Thailand are currently required to spend 14 days in state quarantine while undergoing numerous medical tests to ensure they are not positive for Covid-19.
Ten people remain under investigation for the exact source of infection and are being contact traced by Government officials.
In Chonburi, for the third day in a row, no new cases were discovered it recorded.
Chonburi is currently conducting proactive testing at the Grand Bella Hotel in Pattaya with several hundred people from high risk groups tested on a daily basis. These groups include people still actively working with significant groups of people such as convienence store staff, hotel staff, security guards at condos, taxi drivers, Immigration and other high risk groups.
The tests so far are encouraging with no positives in three days despite a wide net of people selected and volunteering for Covid19 testing.
Twenty people remain in treatment in Chonburi with the majority in Banglamung, which is where Pattaya is located. 61 people have recovered and been released and there have been two deaths, both foreigners.
Pattaya remains under a closure restriction limiting access to the city to allow further proactive testing to take place and determine if there are more Covid19 cases in the area.