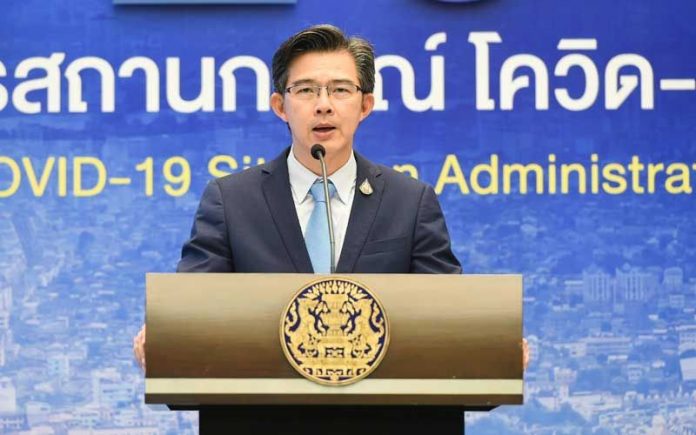 Bangkok-
At the daily press conference in Bangkok discussing the Covid-19 situation in Thailand Dr. Taweesin Visanuyothin, spokesman of the Government's Center for the Covid-19 Situation Administration (CCSA), acknowledged that the general public and private sectors were expressing their desire quite vocally daily to re-open many closed businesses in Thailand but he cautioned that it was too early to lower one's guard.
Dr. Taweesin stated that the Government was very pleased with the overall cooperation of the Thai people on social distancing measures and that this had partly led to the decreasing trend in infections and spread of Covid-19 in Thailand, along with the dedicated work by medical staff and government and law enforcement officials.
He stated that he understood an increasing number of people were calling on social media for opening closed businesses and getting the millions of unemployed back to work which has led to lines in some food charity places, such as Pattaya and Chiang Mai, to number into the thousands, with pictures of lines stretched for over a kilometer dominating social media. An estimated 27 million people applied for financial aid from the Thai Government, shocking officials who had originally estimated only 3 million would be affected. They now say about 8-9 million people will qualify, causing further anger on social media. Confusion on the period of payout also caused public confusion earlier this week. See more on that below:
Thai Prime Minister reassures public that 5000 baht will be paid for three months as part of financial stimulus plan
Dr. Taweesin said that the CCSA, led by Prime Minister Prayut Chan-O-Cha, would be discussing re-opening with the private sector and re-examine loosening of restrictions, such as the curfew, closer to the end of the month.
The Government also noted that Provincial Governor's have significant leeway to make decisions on reopening, such as the decisions already made by the Chonburi Governor to open hardware stores, barber shops and recently electronic stores that remain mostly closed in many other parts of the country. The Pattaya News notes that the Chonburi Government has still expressed its desire to reopen many businesses on May 1st if the situation continues to improve, primarily due to the amount of unemployed and videos and photos of packed charity lines stretching blocks in some cases across the city.
Dr. Taweesin stressed that social distancing measures must be kept up and that people must continue to wash their hands, wear masks, use hand sanitizers and other protective behaviors to help completely stomp out Covid-19 in Thailand.
He stated that the discussion on reopening shops, malls, hair salons and other places nationwide was continuing, but strict social distancing rules would still apply, as well as limits on numbers of customers and hygiene procedures.
It is not expected, The Pattaya News notes, to see overall decisions on loosening of restrictions before the end of the month to allow more time to "flatten the curve" and lessen cases of Covid-19 overall.