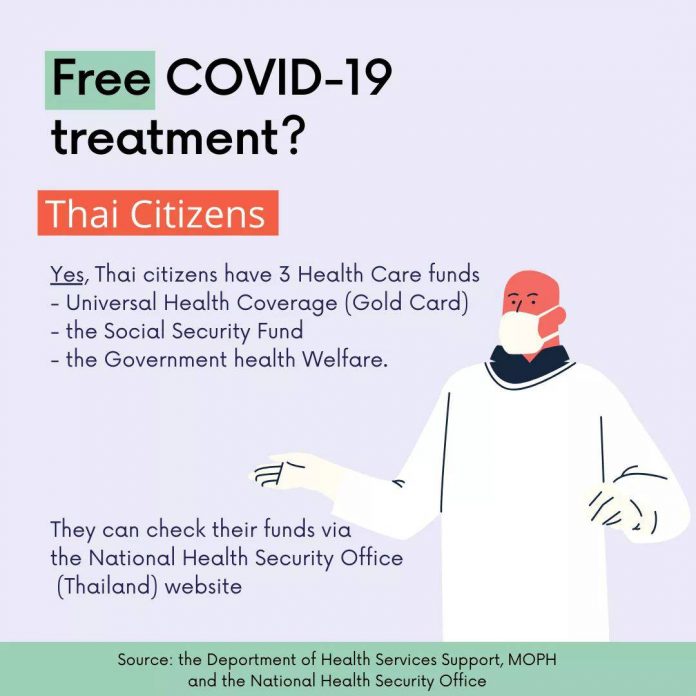 The Department of Health Service Support explained the guidelines for the disbursement of COVID-19 treatment cost, emphasizing that Thailand has one standard for all people to access the service.
A meeting among the Medical and Public Health Emergency Operations Centers was held at the Ministry of Public Health (MOPH) to discuss treatment for COVID-19 patients and set standards for payment expenses among private hospitals to confirm that people can access health care without worrying about the expenses.
The guidelines include:
A patient with a viral infection of SARS-CoV-2 (COVID-19) is defined as an emergency case who needs emergency medical treatment from a health care provider and is allowed to receive treatment in a hospital according to his/her own right. If it is necessary or if there is an emergency, the patient can receive treatment at any hospital, either public or private.
The conditions of the expenditure for the emergency implementation in case of COVID-19 at a private hospital are as follows:
2.1 For foreigner patients, they are recommended to use their own private health insurance during the treatment period.
2.2 For Thai people who have private health insurance, they are recommended to use their own private health insurance during the treatment period.
2.3 For Thai people who do not have private health insurance, the medical treatment can be under the support of three main emergency funds (e.g. National Health Insurance Fund, Social Health Insurance Fund, and The Civil Servant Health Welfare).
In short, all Thai Nationals get free medical care for Covid-19. Depending on their situation, for instance if they have social security, how exactly their treatment will be paid for may vary on an administrative side, however, all treatment is free.
For a foreigner, treatment is NOT free unless they have a work permit and contribute to social security through paying taxes. If these conditions are met, the foreigner will not pay for Covid19 treatment. Otherwise, they will need to have private insurance or pay out of pocket.