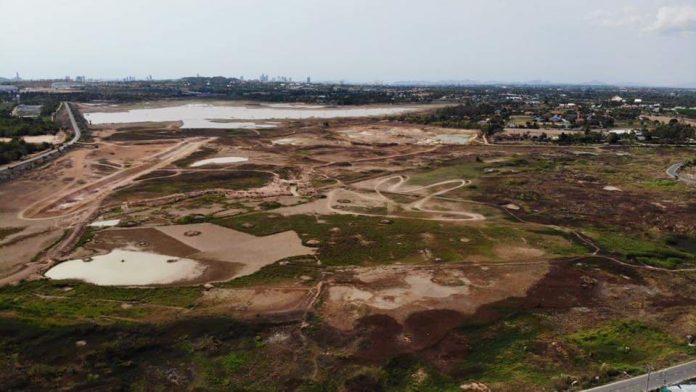 Pattaya-
We have reported several times on the water problems Pattaya is facing in the past few weeks, especially the surrounding suburbs and outskirts of the city.
Here is a recent article explaining the problem:
https://thepattayanews.com/2020/04/11/sattahip-and-chonburi-officials-meet-to-discuss-solutions-for-severe-water-supply-issues-in-area/
The Provincial Water Authority (PWA) has told the press they understand the problem, however, there is no simple solution besides waiting for more rainfall and careful distribution of water. The two main reservoirs near the city, Mapprachan and Chak Nok are at critical levels. The PWA, however, says the current supply will last to the upcoming rainy season although will need careful distribution and control.
This is the current released schedule of distribution from the PWA as of today. The statement also said that this is subject to change at any time based on demand and supply. We are aware not every location is on this list and have been told for those the distribution schedule will vary based on demand. All this is current as of press time.
Schedule for water in Banglamung, listed as odd and even dates in terms of numbers on the Calendar. There are two scheduled times for the water being turned on which are:
Water Flow Times: 5AM to 9AM and 4PM to 8PM unless noted below

(1)Huayyai Chaiyapruek to Nongheep Khao Makok: Even dates

(2) South Pattaya, Thep Prasit, Soi Wat, Boon Chaiyapruek1: Odd dates

(3) Central Pattaya around Chalerm Phrakiet Road: Odd dates

(4) King power, Arunothai, Sukhumvit Pattaya: Even dates

(5) Naklua 25-33, Pattaya Niwet swap on both day with Soi Pothisan 2-14 Pattaya Naklua. (Editors Note, We are aware this is confusing but appears to swap every other day)

(7) Pattaya Rungrueng, Marb Yaireab 6-18/1: Even dates

(8) Marb Yaireab 1-21, Sukhumwit 53: Odd dates

(9) Soi Khao Noi: Odd dates

(10) Pong sub-district on both times every day.

(11) Kasetsin: Even dates

(12) Khao Phra Tamnak: Even dates

(13) North Pattaya from 6AM to 8PM: Odd dates

(14) Central Pattaya 6AM to 8PM: Even dates

(15) Nern Plubwan to Baan hung Klom on both times every day.
This schedule and times have been released by the PWA and the information is their own. The Pattaya News is not responsible if the information is incorrect or water does not flow at the scheduled time. For questions The Pattaya News suggests one calls the PWA.