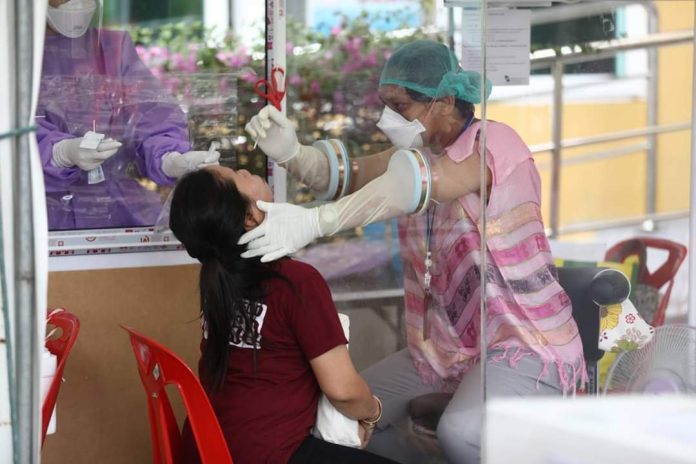 Pattaya-
The Pattaya City Disease Prevention Team, along with the Department of Disease Control and the Ministry of Public Health are proactively searching for cases of the Covid-19 Coronavirus in Pattaya every day currently and conducting the tests, which only take about forty-five minutes, at the Grand Bella Hotel located in Central Pattaya.
We have written on this previously, here is one of our prior articles speaking about this process:
Street team helps recruit people for proactive Covid-19 testing in Pattaya
The team has currently conducted over 600 tests on high risk groups in Pattaya and will continue doing so during the current closure period of Pattaya in which checkpoints have been set up to control traffic into the city proper. The Ministry of Public Health has currently set a goal of 2000 tests to be conducted on high risk groups in the area to allow officials to get an understanding of if there is a widespread problem with Covid-19 in Pattaya.
Of the 600 tests conducted so far, one positive has been found, a high risk previous close contact of another confirmed Covid-19 case.
The high risk groups are people who fit the following criteria:
-Work primarily with tourists and foreigners, such as Hotel staff, bank staff, bar staff, taxi drivers, supermarket and 7-11 staff, Immigration, some Police, etc.
-Individuals who have recently come to Pattaya (foreign and domestic tourists) and traveled either out of the country or to areas determined as red zones, such as Phuket.
-People who work in a location where a previous confirmed case of Covid-19 also worked or visited.
-People who live in a condo or hotel where a previous confirmed case of Covid-19 was discovered.
The team are currently focusing on Thai nationals, although foreigners MAY be accepted based on various criteria. The test is free. All Thai nationals get free medical treatment if they test positive, however, foreigners must pay for treatment if they do not have a work permit.
The team uses a special new test called the "Lamp" test, which takes only forty five minutes to get a correct result and is being tested specifically in the Pattaya area.
Interested in getting a test done or know a Thai national that may? Call 038429166 or the Department of Disease Control at 1422.