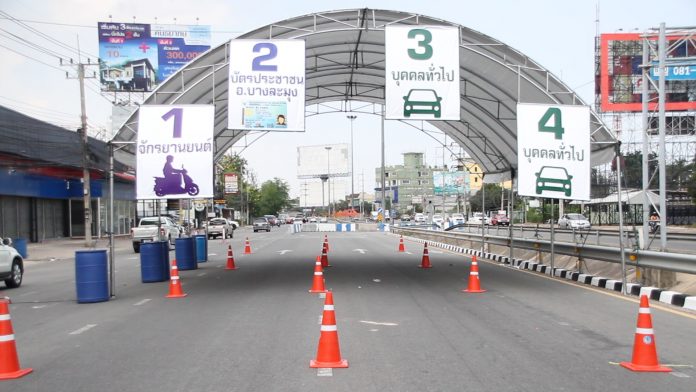 Pattaya-
Yesterday, April 15th, 2020, Pattaya City ran a series of tests on eight checkpoints designed to restrict traffic into the city proper and "close" off Pattaya.
The series of tests was generally successful according to Pattaya City Mayor Sonthaya Khunpluem and Banglamung Sheriff Amnat Charoensri, especially when compared to a previous attempt at closure that was along the railroad tracks leading to the suburbs, or Darkside, of Pattaya the previous week. Checkpoint 8 (See the map below) had significantly heavier traffic then the other checkpoints and as a result additional staff will be assigned to this checkpoint. Additionally, drivers are suggested to consider one of the other seven checkpoints if possible or take a different route around Pattaya City if attempting to avoid traffic.
Here is a video of yesterdays tests we took:
With the success of the tests yesterday the plan to restrict access to Pattaya proper will officially start this afternoon around 2:00 PM. It is possible some of the checkpoint locations will begin earlier than scheduled so one is asked to be prepared should they need to go through the checkpoint.
The eight checkpoints are all located on Sukhimvit Highway and are at the following locations:
The checkpoint process will include a temperature check and a documentation check to ensure that one has an essential reason to enter Pattaya City, which includes Naklua and Jomtien.  Those with a temperature higher than 37.5 will not be permitted to enter and will be advised to immediately visit a local hospital. All who pass the checkpoint must wear a mask and hand sanitizer is also suggested to be used during the process.
Each Checkpoint has several lanes devoted to different types of traffic such as a "speedpass", or green lane, for those who have had previously approved documentation and are local residents, a motorbike lane including for delivery drivers, such as GRAB, who need to make deliveries within a reasonable period of time, throughfare traffic who are not planning to enter Pattaya and are continuing on to other destinations, such as Sri Racha or Sattahip and finally a vehicle traffic lane.
Pattaya Mayor Sonthaya Khunpluem stated to the press yesterday that unless one had essential, critical business in the city they should avoid entering. All entering a checkpoint should have their Thai National ID card or original passport for a foreigner. If one is a resident in the city they will need to have proof of this, such as a Driver's license with address and a copy of their landlord's information and a contact phone number showing that they are a tenant.  If they need to enter Pattaya for work their information should be filled out in a specific form available at most local 7-11's and on the Pattaya PR page. The English version is below. If a foreigner is working they must also have their work permit with them.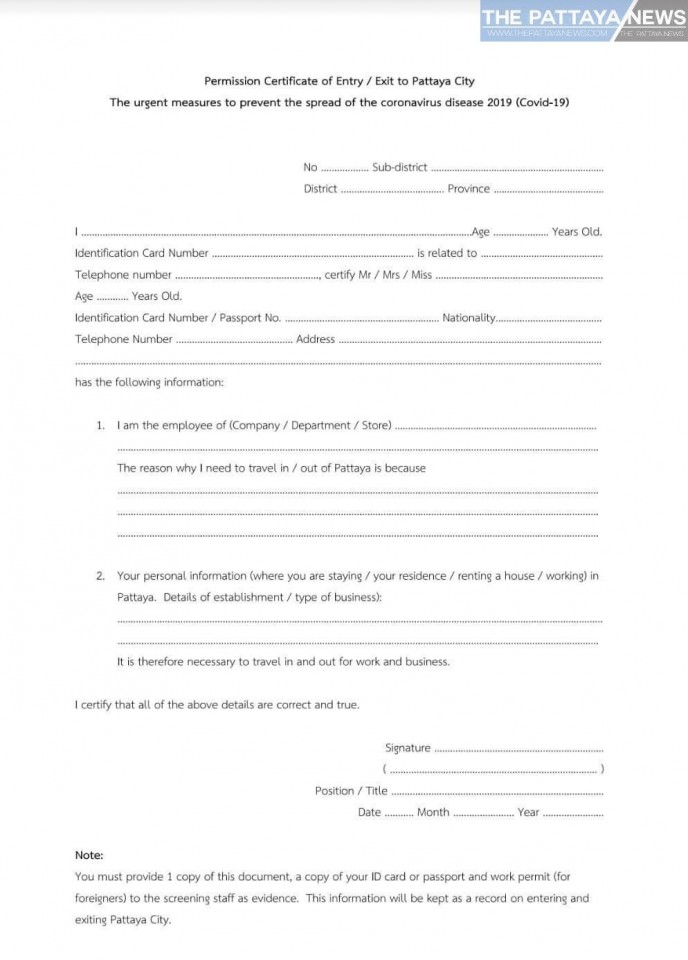 The checkpoints are set to last for several weeks or until the situation approves and the Chonburi leadership decides to remove them. During this period of time proactive tests on those residing in Pattaya will take place to determine if there is a local spread of Covid-19 in the area, especially among high risk groups such as those who have recently arrived, live in hotels or condos that had a confirmed case of Covid-19 or Thai nationals who mostly work with foreigners.