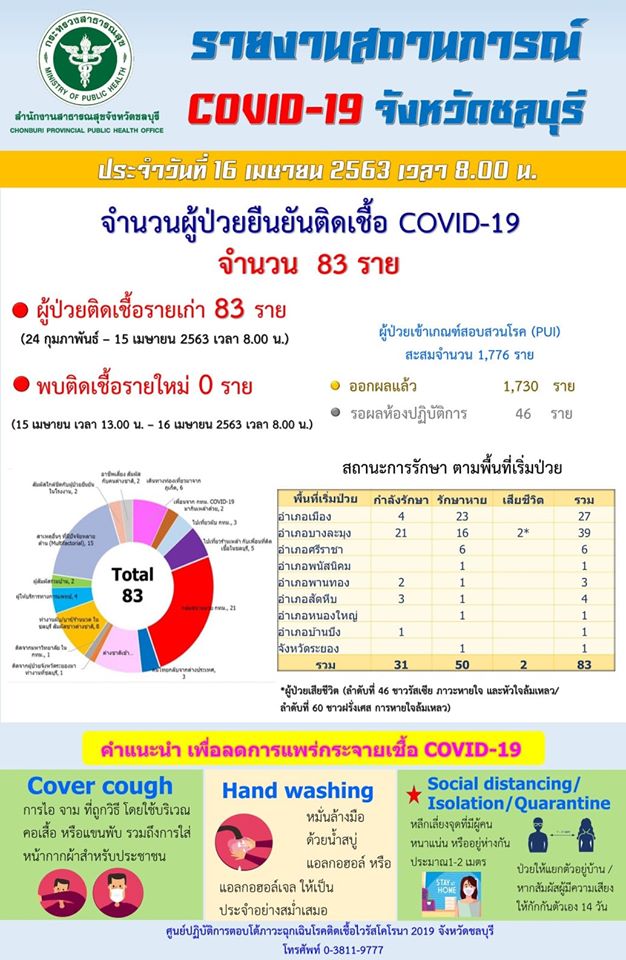 Chonburi-
The Chonburi Public Relations team announced this morning that zero more cases of Covid-19 were found in the last day in the area.
This marks three of the last four days with a total of zero cases.
This also comes as daily, proactive testing of high risk groups is being conducted at the Grand Bella hotel in Pattaya. Several hundred people a day are being screened for the disease, chosen from volunteers from high risk groups around the area that are still working in fields with high exposure to many people, such as Immigration, supermarket employees, taxi drivers, maids, hotel staff and others.  Only one case has been confirmed in the past few days from the testing and it was since found that person was a close contact of a previous confirmed case.
Chonburi has had a total of 83 confirmed cases with 50 recoveries and two deaths, both foreigners.
31 people remain in hospitals for treatment in the Chonburi area.
46 people are currently people under investigation, or PUI, for potentially having symptoms of Covid-19.
Chonburi Province has stated that if numbers remain low and the current trend continues the plan is to re-open businesses and get people back to work on May 1st.