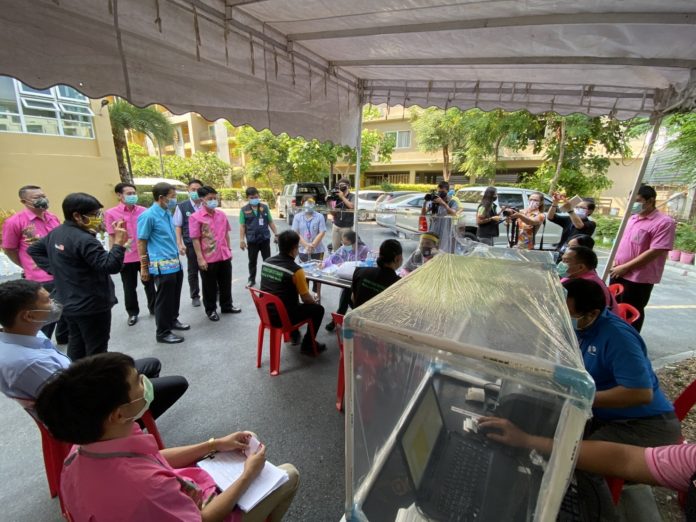 Bangkok-
Thai Government officials, led by Dr. Taweesin Visanuyothin, spokesman of the Center for Covid-19 Situation Administration, has addressed critics who in person and on social media have asked for massive mass testing across the country, stating contact tracing and identifying high-risk groups of individuals who may have Covid-19 is far more effective.
Although admitting that due to Thailand's limited resources they could not afford mass screening country wide to uncover new infections, Dr. Taweesin stated this week that the country was seeing its success in controlling Covid-19 through detailed and intense contact tracing and by identifying high risk areas and communities, not by randomly mass testing across the Nation, which according to the Government was not effective.
In response to criticism about the lack of mass screening, Dr. Taweesin brought up examples of four hospitals that had conducted widespread community testing and had very low, to in some cases, no infection rates. However, when compared to testing in areas that had specifically been identified as high risk, such as where previous cases had taken place or where the community had a history of recent travel, the infection rate was higher. This has led to the current strategy being used in Phuket (and to a lesser extent Pattaya) of identifying high risk areas for the spread of the virus and laser focusing contact tracing and testing, including on asymptomatic and random people, in those areas vs. randomly testing across the country in low-risk areas.
Dr. Taweesin said four basic principles were being adhered to in terms of controlling the spread of Covid-19 and identifying infections:
1.High risk contact groups must be identified, even if law enforcement is used to assist in this process.
2. High risk communities must be isolated (such as closing off Phuket and Pattaya) and intensive testing, quarantining and contact tracing must be done once the area is under control.
3.  Pro Active hunting for cases (randomly testing) will be applied in high risk communities to search for cases. (Currently Phuket, Pattaya and portions of the South)
4. Mass screening, especially just to get a higher number of tests completed, is not as effective randomly across the nation as the rate of infection has not been found to be high enough to justify the cost and labor.
Dr. Taweesin also said that mass testing does not guarantee success. The country has currently performed roughly 100,000 tests as of press time. The total number of cases in the country is 2613, with 41 deaths and 1,167 people recovered.
With some source material from: https://www.nationthailand.com/news/30385921?utm_source=homepage_hilight&utm_medium=internal_referral