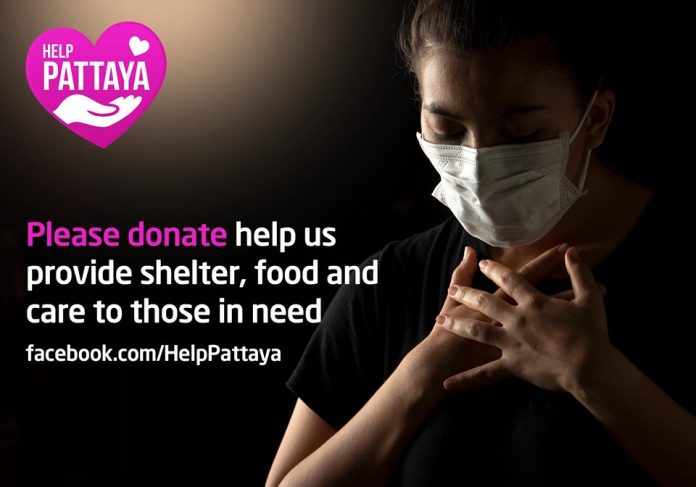 Pattaya-
Do you know someone who is hungry and unemployed currently? With most places closed in Pattaya and estimated tens of thousands (at a low estimate) out of work in Pattaya alone and millions across Thailand, many people need help right now due to the Covid-19 situation.  Additionally, if you are in a position to assist and help those who are not as fortunate the information and details can be found below. This is a group put together by the owner of the Devonshire, however, their only goal is to HELP the people of Pattaya, in both Thai and English, to show places offering free food and drinks to those who need it during these tough times.
The following information comes from Help Pattaya. This has not been edited by our staff and remains it the original form as published to their Facebook, found at the bottom:
-DEVONSHIRE RESTAURANT on Soi Lengkee. Devonshire Restaurant and Guest House – Soi Lengkee . Handing out free food to the needy from the restaurant from 1pm until 6pm. Unfortunately due to the lockdown, they are unable to continue with deliveries, but the food is still available to those in need.
DEVONSHIRE RESTAURANT at Soi Leng Ki Devonshire Restaurant and Guest House – Soi Leng Ki give away free food to the underprivileged from the restaurant from 1pm to 6pm. Apologize because the shop is closed, they are unable to deliver food. But food is still available for those who need it
————————————————————–
ZAPPA BAR & GUESTHOUSE on Soi Buakhao Zappa Bar & Guesthouse . Food and water are available there. Tuesday and Friday 5pm.
Zappa Bar & Restaurant at Soi Buakhao. Zappa Bar & Guesthouse has food and water. Not sure when the time will be given out. Someone suggests below so I can update.
—————————————————————
-KING SEAFOOD on Walking Street (Beach Road end) King Seafood giving out 1500 boxes of chicken fried rice at 4pm. They advise to to arrive early because queues have been long.
King Seafood on Walking Street (At the end of the beach road) King Seafood gives out 1,500 boxes of chicken rice at 4:00 pm. They advise to arrive early because the queue is very long.
—————————————————————
-CHANDNI RESTAURANT Soi 16 Pattaya Klang https://www.facebook.com/chandni.resturant.5 Chandni Resturant Pattaya handing out food from the front of their shop at 5pm daily.
Jany's Restaurant, Soi 16, Pattaya Klang, Jany's Restaurant delivers food from the shop at 17.00 hrs every day
———————————————————————-
Jananarat INDIAN RESTAURANT Second Road by Soi VC and the entrance to Soi 16 / Soi Arab. Handing out food from the front at 2pm and 7pm daily.
Jannarat Indian Restaurant Second Road by Soi VC and entrance to Soi 16 / Soi Arab give away food from the front 14.00 hrs. And 19.00 hrs. Every day
—————————————————————–THE
COVE PUB in Jomtien Thrappaya Road and Jomtien road intersection The Cove Pub have been handing out food daily. Their time is from 5pm until 8pm daily.
CLOSED MONDAY 13th ONLY. NO FOOD AVAILABLE MONDAY.
The Cove Pub at Jomtien Road and Jomtien Road Intersection. The Cove Pub gives away food everyday. 5PM-8PM
—————————————————————–
AMORE MIO on Soi Buakhao Amore Mio Guesthouse Bar Pattaya are offering free food from the front of their shop. Again, I ' m not sure of the times, but if someone lets me know below, I'll update.
——————————————————————
-NADIA'S KITCHEN on Soi Bongkot between Mini Big C and Attitude Condo are offering free meals to the needy. They are also accepting donations from those who can afford it. Nadia's Kitchen from 3pm daily.
——————————————————————
Henk from soi Rungland ALLSTARS APARTMENTS will have around 100 bags of free food for the hungry on the 13th (Songkran day) from 5 o'clock.
Thank you Henk, that's amazing !!
—————————————————————-
Good work from PATTAYA BAY REAL ESTATE. 200 meals on Saturday. 12-2. On Pratumnak Hill right opposite the top of soi 5 .
POSSIBLY A ONE-OFF FOR THE 11th. IF YOU KNOW DIFFERENT, LET ME KNOW BELOW.
——— ———————————————————–
COCKA2 BAR Jomtien Complex are handing out free food to local Thai people. Cocka2 Bar . They're part of a complex of bars which have between them been handing out 4-5000 meals per week! Amazing work.
——————————————————————
ALIBABA TANDOORI on Pattaya Klang on the corner of Pattaya Klang 8. Alibaba Tandoori & Curry Restaurant are handing out food from the front of their restaurant from 12-2pm daily.
—————————————————————-
-RESTAURANT KENT working with DD Inn is serving free food outside Soi Whitehouse, Jomtien Beach on Sunday and Wednesday at 2pm.
——————————————————————
Pratratak Inn Hotel, Pratumnak Soi 4, gives away around 150-175 meals every Sunday. No times known yet. Anyone who knows any more please let me know below.
——————————————————————–
JOMTIEN BEACH POOL HOUSE Jomtien Beach Pool House had 100 boxes of free food to give away at 4pm on Sunday 12th.
I THINK THIS WAS A ONE-OFF. LET ME KNOW IF YOU KNOW DIFFERENTLY. I think this is the only time. Let me know if you know the difference
————————————————————–
YOKKI HAIR SALON apparently are handing out food by the big tree at Rhompho market next to the landscape place today and will continue. You can contribute if you want when going by. Huge line of Thai people patiently waiting. Free food available for Thai people at 5pm.
—————————————————————-
Hungry Panda will be giving 100 free meals to Thais in need from Tuesday for at least 3-4 times a week, I will post updates on times and days as I get them. The next time they will be giving free food is Tuesday, starting approximately 1300pm.
—————————————————————–
HELLO CAFE & SALON with help from "ODD FELLOW THAILAND" giving hungry people food and water every Tuesday from 12:00. Next to the bus station in Thappraya Road at the light cross to Theprasit Road.
——————————————————————-
NORWEGIAN SEAMAN'S CHURCH Sjømannskirken i Pattaya 165/28 Moo 10 Thappraya Road Soi 5 are giving away free food on Thursday.
East Seaman Church 165/28 Moo 10 Thappraya Soi 5 Giving away free food on Thursday
—————————————————————
-Finally for now … the details are sketchy on this one I'm afraid, but the guy who owns Excite Club Pattaya has organized free food at a place called FAMILY FOOD. If anyone has further details, time and actual location, please let me know below and I'll update.
***************************************
Please 🙏 This is help for hungry people And don't have money in Pattaya if you have money to eat Please sympathize with them too, because you may have eaten but they have nothing to eat.
Please use this only if you are in need. If you have food or money for food, please don't use this or you may prevent someone desperate from being able to eat. Thank you. 🙏🏻
************************************************** **
The main post on the Help Pattaya page is here :
https://www.facebook.com/102179648120506/posts/105630751108729/
Up to date list of places offering free food to the hungry and desperate in Pattaya.
รายการสถานที่ล่าสุดที่เสนออาหารฟรีสำหรับผู้หิวโหยและสิ้นหวังในพัทยา
If you are hungry and have no money for food, use this listing.
หากคุณหิวและไม่มีเงินซื้ออาหารให้ใช้รายชื่อนี้
Otherwise please share this for anyone who needs help. (Especially Thai groups)
มิฉะนั้นโปรดแบ่งปันสิ่งนี้กับทุกคนที่ต้องการความช่วยเหลือ (โดยเฉพาะกลุ่มคนไทย)
Thank you.
ขอบคุณ