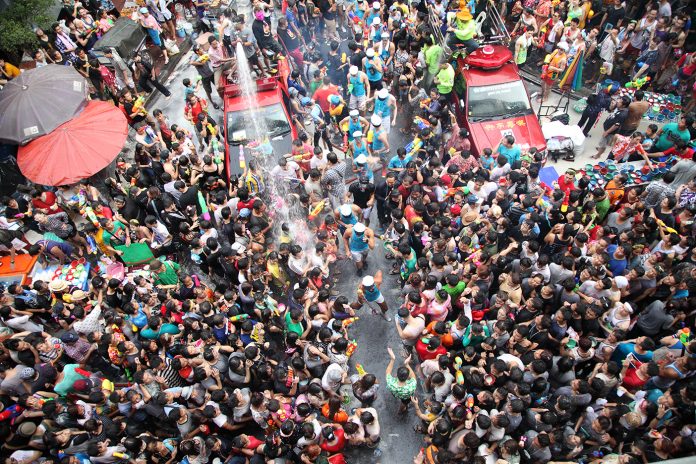 Bangkok-
Police Major General Piya Utayo, spokesman for the Royal Thai Police, told the press yesterday in Bangkok that throwing water for Songkran, including placing a bucket in front of your house or in a small family gathering at home, could be considered against the Emergency Decree for preventing gatherings as it encouraged people to mingle and get together.
Major General Utayo added that the Culture Ministry, which we reported on yesterday below, also advised against the traditional aspects of Songkran, such as blessing elders with water or community cleaning events as they caused gatherings and did not encourage social distancing. Songkran traditionally starts on the 13th, in just a few days.
Culture Ministry warns against traditional Songkran Celebrations, says could spread Covid-19
Major General Utayo noted that some provinces seemed to suggest they would allow people to proceed with Songkran celebrations and that this was not the right thing to do, even in a very reserved form, as it could still spread the virus.
He added that he understood this was the most important holiday of the year for Thai people and that Thai Prime Minister Prayut Chan-o-Cha had officially postponed the holiday, which meant that later this year Thai people would be able to enjoy the celebration as usual with their family and friends. He said the faster everyone worked together to socially distance and help stamp out the disease the quicker things could return to normal, allowing people to return to work and life. Royal Police officials in general have stressed they are not trying to be "The Fun Police" but by enforcing social distancing this entire situation will resolve sooner vs. later.
Additionally, many provinces are banning alcohol sales during the Songkran festival to help discourage gatherings and encourage social distancing. Alcohol and parties are traditionally a major part of the Songkran festival which is the single biggest annual holiday for Thai people.