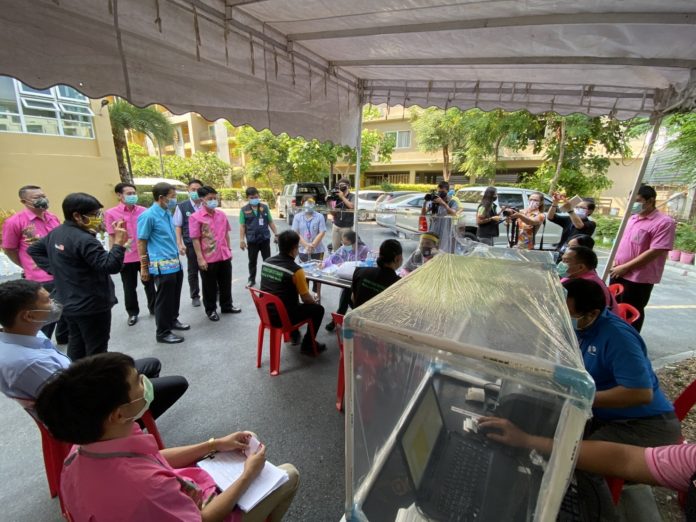 Pattaya-
The Grand Bella Hotel, as we mentioned in previous articles and can be found below, has turned one of its buildings into a field hospital for patients under investigation or suspected to have Covid-19. They have begun to test 200 high risk exposure people a day as of this morning, with the goal to test a total of 2000 people in the next ten days.
Read about the previous decision on the Grand Bella Hotel becoming a field hospital here:
Grand Bella Hotel in Pattaya is set to become field hospital for Covid19 patients under investigation
The Grand Bella Hotel was visited this morning by The Pattaya News and Chonburi Governor Pakorn Tieanchai, along with Dr. Sirichai Limsakun, the Chonburi Public Health Doctor and Mr. Amnat Charoensri, the Banglamung Sheriff to tour the facility and discuss the plan for the next ten days.
The main purpose of the Grand Bella is for patients under investigation, which generally takes a full day to get results back from a Covid-19 test. One of the main reasons Pattaya City is being closed and applying checkpoints is to help identify high risk groups within the city and have them randomly tested.
Health Authorities are currently identifying several high risk groups who are being chosen randomly to submit to testing in the Chonburi area. These are primarily individuals who have recently come to Pattaya from out of the province or country, including foreigners, however, also includes people who were in close contact with previous confirmed Covid-19 cases or people who were at a place where someone tested positive for the disease.
If Covid-19 is detected in a patient they will be taken to a local government hospital for further treatment.
The testing and stay at the Grand Bella is free for those people identified as parts of a high risk group and is being paid for in conjunction with the Department of Disaster and Mitigation which the Ministry of the Interior created a budget for. The stay includes a room, food and drink and medical personnel ready to assist.
With additional reporting by Phakthon Thianchaiphu, Chonburi