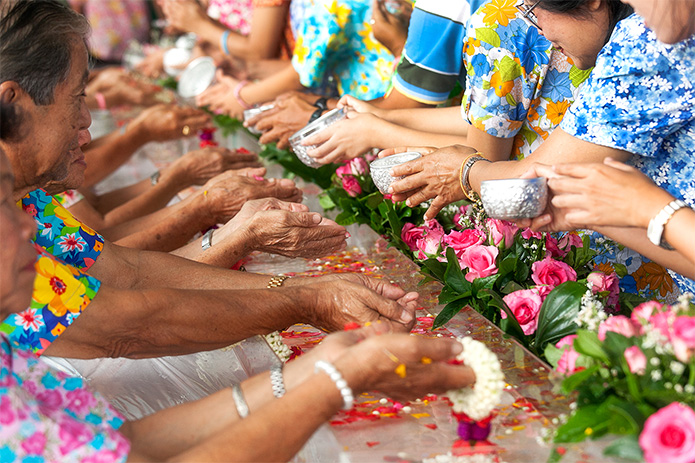 Thailand-
The Thailand Culture Ministry, led by Culture Minister  Itthipol Kunplome, who is the brother of the Pattaya Mayor Sonthaya Kunplome, stated this week that traditional Songkran (The Thai New Year) festivities, such as family gatherings, sprinkling water on elders (Rot Nam Dam Hua), religious ceremonies at temples and other items should be skipped or postponed this year.
Officially, Prime Minister Prayut Chan-O-Cha has postponed the National Songkran activities to a later, unannounced date. To many, Songkran brings to mind millions of people engaged in country wide water fights, parties, concerts and gatherings which is the countries single biggest annual event and largest annual tourist draw. However, with the threat of Covid-19, all that has been postponed this year-but officials fear some may still want to unofficially celebrate and have been delivering warnings that doing so can hurt social distancing and the effort to get rid of the virus.
With the warning and announcement coming from the Culture Ministry it is clear that officials are not just concerned about the visible water fights of Songkran but also the gathering and traditional activities as well.
Some provinces, like Chiang Mai, have banned all sales of alcohol during the Songkran period which falls from April 13-April 15th to help encourage social distancing and lessen chances of people drinking and celebrating the holiday privately.
The Songkran dates are no longer public holidays and will be regular, normal days, despite being the Annual New Year dates. As a comparison for a Western audience, essentially postponing Songkran would be like postponing Christmas in the West.
Rot Nam Dam Hua is a water-pouring ceremony, a traditional ceremony in which young people show respect to their elders and ask for their blessings.
The Culture Ministry has issued an official order which announces that this ceremony should be skipped as well as gatherings in this period.