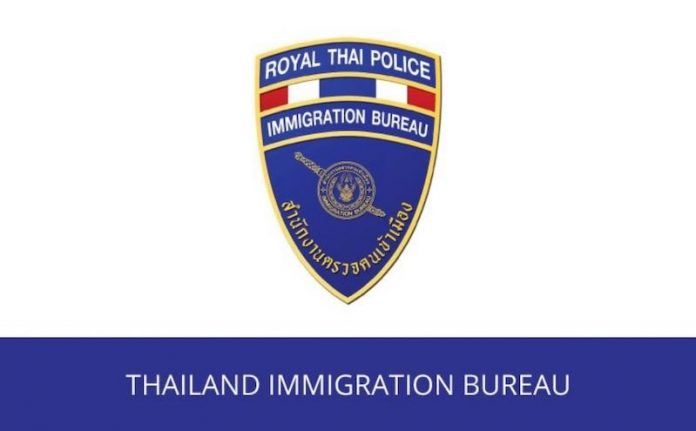 Jomtien-
Complaints and frustration over lines at Immigration have reached a deafening level, with multiple pictures and e-mails sent today alone to The Pattaya News of a crowd estimated to be in the hundreds at Jomtien Immigration this morning and afternoon.
The lines, being caused by estimated numbers of hundreds of thousands of tourists still stuck in the country unable (or in some cases, unwilling) to return to their countries, were expected to be long today as Immigration was closed on Monday for a public holiday. However, frustration was still high as many people reported being in line for multiple hours in the sun and heat and the lines were far beyond what most people expected, even those who arrived two hours or earlier before Immigration opened to attempt to be some of the first people in line.
Jomtien Immigration has done the best they could of a tough situation, providing water and masks to some patrons, multiple tents and fans, hand sanitizer, temperature checks and more. However, due to the sheer size of the crowd, socially distancing, despite the solid efforts of Chonburi Immigration, was difficult, if not impossible. It is worth noting as well that the Immigration officers also put themselves on the front lines during the pandemic directly interacting and assisting with hundreds of foreigners and are working extremely hard during the situation.
The issue, of course, isn't a local Immigration office as they merely follow the rules and have no control over policy. The issue is lack of a waiver or National Immigration Policy change, even a temporary one, to help encourage social distancing and lower the lines.
Meanwhile, Thai Authorities, including the Government Spokesperson, say that The Thai Cabinet and Immigration Leadership have been working on a plan to balance National Security as well as properly encourage social distancing. They have cautioned multiple times, however, that this plan takes time and that they have heard the complaints loud and clear and are working on them. They have also stated the Prime Minister is concerned about the situation and seeking a solution best for everyone. Multiple Embassies, such as the British and US Embassy, have also contacted Thai Immigration officials and spoke with them about the concerns of their citizens over the current process.
Some items, such as 90 day check in online, have been improved notes Thai Immigration. They are actively encouraging people to their check-in online when possible to avoid potential lines.
We wrote at length about the situation just a few days prior:
The current situation with any sort of visa "exemption" for foreign tourists stuck in Thailand during the Covid-19 crisis
As of press time, no official announcement on changes in the process has come from the National Immigration level. It is hoped that further information will be forthcoming later this week.