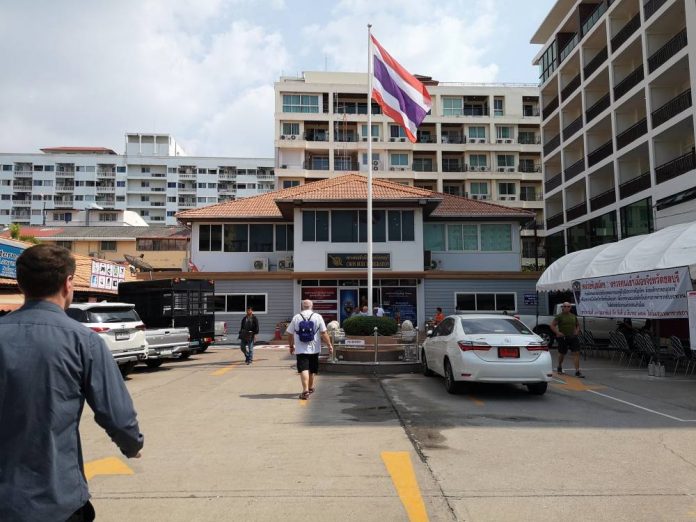 Bangkok-
Foreign tourists have been complaining for weeks now on social media regarding alleged confusion, lack of social distancing, grueling wait times, confusing red tape and forms required for a visa extension for those who are unable due to a variety of factors to leave Thailand in the midst of the Covid-19 Coronavirus crisis in Thailand.
Photos of hundreds of foreigners in lines, at a time when most people want to stay home and practice social distancing to avoid possibly spreading or contracting the Covid-19 Coronavirus, have been common sights online in Thailand.
So, what is the solution?
The Pattaya News has had dozens of e-mails, messages and questions regarding the visa situation and as the actual news released has been minimal, we have not written much about the situation to this point, other than acknowledging that the Thai Government is aware of the issue and it was being discussed at National levels.
Here is what we know so far:
As early as March 20th the Thai Tourism Minister, Phiphat Ratchakitprakarn, had spoken in public to the press stating that he was asking for clemency for the estimated 500,000 tourists who were in Thailand and approaching the end of their visas. Many of them could not return to their countries due to cancelled flights although some of them stated that they would prefer to ride the situation out in Thailand which, so far, has been calmer than many European countries and America in terms of numbers of people infected with the Covid-19 Coronavirus.
Mr. Phiphat said that he was approaching both senior Immigration officials and the Thai Cabinet for further clarity regarding the situation and to ensure all sides were aware of the escalating situation.
This was over two weeks ago. In the time since, several solutions have been brought up, from thirty day extensions or more, to paying at the airport when one can finally leave, to less paperwork or to completing an extension and paying for it online to encourage social distancing.
Bureau deputy spokesman Phakkhaphong Saiubon insisted that online applications are not allowed for tourists seeking an extension, however, due to national security concerns at the end of March.
In the meantime, also due to alleged National security concerns, more paperwork requirements have arisen at some Immigration centers, even going so far as to asking for the owners of hotels or landlords to leave the comfort of their homes during the current situation and go to a bustling Immigration Office with the stuck tourist to sign paperwork and have an interview. Letters from embassies, many also closed for routine services, were also requested. For the latter situation, many embassies cooperated and were able to issue letters over the internet and help their citizens.
At the moment, Immigration gives tourists, unable to fly back to their home countries, or to another destination, a 30 day extension of stay, providing they can provide a 'visa extension letter' from their embassy. They also require proof that they cannot leave the country, usually in the form of a cancelled flight ticket. This service generally costs 1,900 baht. Extending past this date, especially if a tourist had previously extended their holiday before the Covid-19 situation, has proven more difficult and most are being provided 7 to 15 day stamps, depending on their unique situation and the Immigration office they are visiting.
It is also worth noting that Immigration agents are working extremely hard during the overall situation and are at just as much risk for contacting the virus as foreigners while assisting as many as they can within the confines of the current rules set.
So, will the rules change?
On March 24, 2020, a proposal was made, likely originally started by the Tourism Minister, to extend visas to June to assist tourists to the Thai Cabinet.
Contrary to some early statements in the press, the proposal was not approved in its initial form but multiple details still have to be ironed out to protect both the interests of Thailand and National Security as well as assist foreigners.
Speaking to Thai PBS on April 3, deputy ministry spokesman Natapanu Nopakun provided an update on the proposal to grant automatic visa extensions to foreign tourists stranded in Thailand due COVID-19. He had also spoken at a daily press conference which he gives in English daily earlier in the week about the situation, also telling anxious foreigners a solution was coming and that Prime Minister Prayut Chan-o-Cha was aware of the situation and actively working towards a solution.
Mr. Nopakun said the government understands the situation and that granting foreigners automatic visa extensions is "in the pipeline". However, he stated that the exact details still needed time to be discussed and approved and that the entire situation was a very sensitive issue. He did, however, say that the Nation would do everything within its power to come to a solution for all involved.
Meanwhile, many Immigration offices are doing everything they can within their control to make a difficult situation better. In Jomtien, Immigration officers have been setting up additional tents and fans, providing better social distancing measures, ensuring temperature checks and hand Sanitizer for all entering the office and also protecting Immigration agents with proper spacing, face shields and protective equipment.
They have even been seen handing out complementary water and face masks at times to foreigners waiting to speak to agents. Immigration officers are well aware of the situation but wanted to stress to local Chonburi tourists visiting Immigration that they have no ability to change National policy and must simply follow the orders they can within the best of their ability.
They have also stressed to expat full time residents to conduct their 90 day check-in process online, although there have been some complaints that the online portal is difficult or unreliable to use on social media by some expats.
In closing, it is likely we will hear more on this situation later in the week but for the time being local Immigration officers are doing the best they can in a difficult situation as National leaders work out the details of a future plan. It is worth noting that due to a national Holiday on Monday, April 6th, Chakri Day, that is is unlikely any resolution will com early in the week.