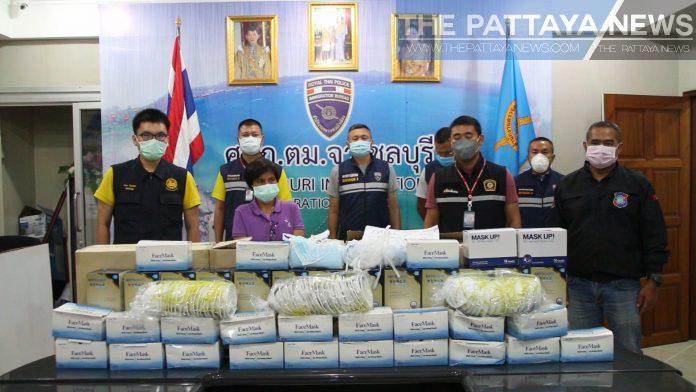 Jomtien/Pattaya-
A 38 year old Chinese man, Mr. He Chunyu, was arrested yesterday afternoon and has been charged with several offenses related to price gouging and hoarding of medical supplies after being found with 62,000 protective face masks in Jomtien.
Mr. Chunyu was arrested at a condo on Jomtien Beach Road after a tip from a concerned citizen was made to Immigration officers about Mr. Chunyu working and selling the masks online without a work permit, which is against Thai law. Additionally, under the current measures of the Emergency Decree issued late last month by Prime Minister Prayut Chan-o-Cha to help ensure adequate supplies of masks and protective equipment for all citizens, hoarding medical supplies is against the law. The Prime Minister promised that anyone caught hoarding or price gouging would be prosecuted to the fullest extent of the law.
Mr. Chunyu denied all accusations and claimed all 62,000 masks were for personal usage and that he was not selling them online nor working without a work permit. Immigration and Law Enforcement officials, however, stated to The Pattaya News that the evidence does not reflect Mr. Chunyu's claim of personal usage and he was arrested and will be held for further legal action.
Mr. Chunyu faces not only charges of working without a work permit and hoarding controlled goods but also faces allegedly violating the Emergency Decree set by the Thai Government to help control the spread of Covid-19, which could see punishment of stiff fines and several years in prison.
It is believed the masks will be given to medical workers and staff in need, according to Immigration officials.