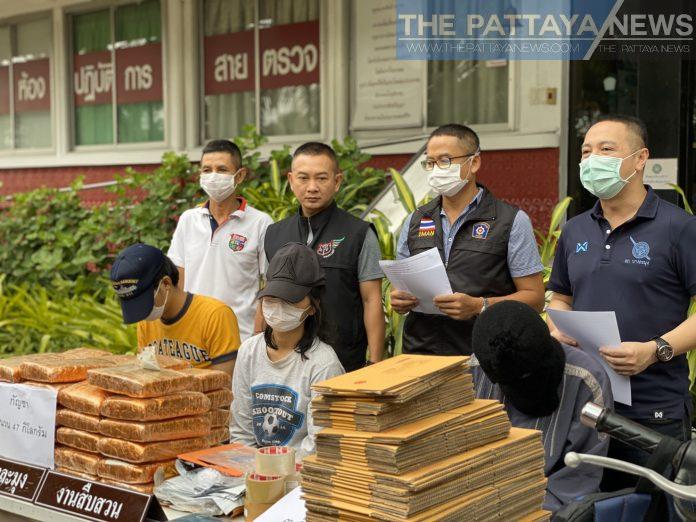 Banglamung-
Banglamung Police arrested three suspects yesterday afternoon who were caught with 47 Kilograms of marijuana that they were selling in Chonburi and Bangkok, primarily through a Facebook page and social media.
The suspects, Mr. Nakarachai or Pon-noon, 20 years old, S. Supaporn or Muay Subboonto, 21 years old, and Mr. Noppuch or Nawee Cherndecha, 20, were all arrested yesterday after Banglamung police, led by Pol.Col. Phatthanachai Phamornphibun, caught the three during an undercover sting.
The three, according to Banglamung Police, were openly selling the marijuana through a public Facebook page called Seri Marijuana, which has since been taken down. The page came to the attention of the Police who conducted an undercover operation to purchase marijuana. When the time came for the deal, officers revealed themselves and arrested the suspects.
The suspects have claimed they are just low level salespeople and they were given the marijuana to sell by a man they only know as Mr. Singh. They were unable, or unwilling, to provide police with more information about their alleged employer.
The three suspects face several charges related to illegal drug distribution and possession. The Pattaya News notes that Thailand has legalized medical marijuana, but requires the correct licenses and patents. Recreational marijuana use is still against Thai law, as is selling the product with a proper Medical license and purpose.