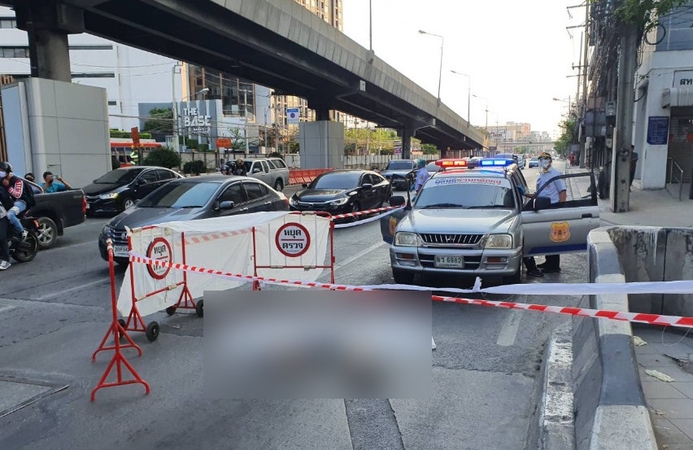 Bangkok-
A British man, who was not named due to the sensitivity of the situation, was pronounced dead by suicide in Bangkok at the Ramkhamhaeng intersection in Bangkok's Hua Mak district this morning by local Police.
The man had left a vehicle, an Izuzu D-Max pickup truck, parked on the Sirat Expressway above the intersection and then, according to witnesses, jumped to his death at about 7:00 AM this morning. Multiple witnesses were present on their way to work at the busy intersection.
It took several hours for police to remove his body as forensic specialists from the Institute of Forensic Medicine at the Police General Hospital assisted in full personal protective equipment out of fear that the foreigner may have had Covid-19.
Police spoke with his wife via telephone, a Thai woman, whose information was found in his vehicle. She allegedly told officers that her husband had been depressed with his business closed for weeks now due to the Covid-19 crisis and that he had suffered significant losses, leading to his actions. She also said that he had not been ill.
His body was brought to the Institute of Forensic Medicine for an autopsy. The British Embassy has been informed. The Pattaya News notes this is the second British National to have been pronounced dead by suicide since the start of the Covid-19 crisis, with a British man in his twenties, who had been reportedly in financial desperation due to Covid-19, jumped to his death from a Bangkok Condo late last month.
Are your or somebody you know depressed or need help? We understand these are tough times, please contact the Samaritans of Thailand if you need assistance:
https://web.facebook.com/Samaritans.Thailand/
Source: https://www.nationthailand.com/news/30385419?utm_source=homepage&utm_medium=internal_referral