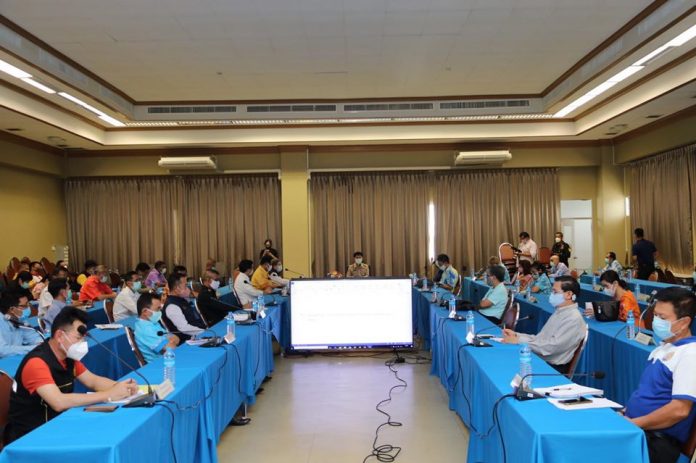 Chonburi-
At a meeting of the Communicable Disease Committee this afternoon for Chonburi Province the Chonburi Governor and the committee discussed several new measures to help restrict and stop the spread of the Covid19 Coronavirus.
It is important to note that none of these measures are official until the Governor signs an order, which may come as early as this evening.  As always, measures discussed are subject to change and this is a developing story. The exact time-frame of the order will also not be finalized until the order is released. None of these measures are currently in effect until the order is released in its final form.
The measures discussed, likely to take place are:
1. Closure of hotels and similar establishments to close. Of note, there will likely be a three day window for hotels with current guests staying there and hotels may have an option to stay open if they choose and have customers. More details on this will be in the final order.
2.  More checkpoints in and out of Pattaya City proper.
3.  Beach closures, including daytime. However, the initial proposal says that just going for a swim would be allowed, but no socializing, sitting, suntanning, etc. on the beach. This includes gathering on areas near the beach, such as the sidewalk.
4.  All gas stations closed between 22:00-0500 hours
5.  "Flea" markets closed. Primarily secondhand style markets.
6.  A request for cooperation to not leave your residence between 23:00 and 05:00 hours. If a national curfew is confirmed later this evening the time would combine the National order and Governor's order.
7.  Suspension of more non essential provincial government services. Details will be in the final order.
8.  Closure of all reservoirs to the public for fishing, biking, racing, etc after complaints and pictures of crowded reservoirs being used as parks in the last week.
9.  Hair salons can open with proper hygiene standards. However, nail salons, tattoo shops, etc. can not.
10. The creation of an additional district committee to help oversee enforcement of the rules and potential discipline of violators.
This is a developing story. Once more, none of these items are final, however have all been discussed by the Chonburi Government.
The original post can be found on the Chonburi PR Facebook Page:
https://web.facebook.com/ChonburiPr/