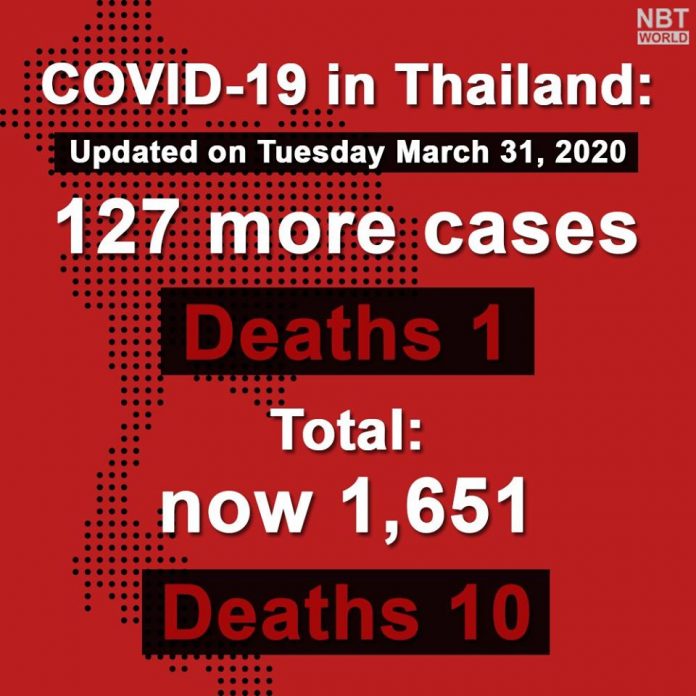 Thailand-
On Tuesday morning a press conference from members of the Ministry of Public Health and Department of Disease Control confirmed 127 new confirmed cases of the Covid-19 Coronavirus in Thailand and one additional death.
This brings the total in the country to 1651 confirmed cases and ten deaths.
One more case was confirmed in Chonburi today, a Thai national who lives in the Pattaya area and had close contacts with foreigners with the disease, according to Chonburi PR.
These numbers, which have remained fairly steady for over a week now but not showing exponential growth, come as restrictions tighten around Thailand.
Most notably is in the deep South, where provinces like Yala restrict people from coming and going and Phuket which has set in place a request for cooperation to be off the streets from 8:00 PM to 3:00 AM and has shut marine and land travel. The airport will also close for flights to the island on the tenth. These restrictions are designed to help prevent a further spread and for authorities to contact trace better in localized areas.
Checkpoints are in place across the country with a total of 400 now, primarily designed to screen individuals going from province to province. Domestic travel is legal, but has been made more difficult with checkpoints and the bus system suspended until the 30th for buying tickets.
Some provinces, like Sakon Nakon, have even banned alcohol sales leading to false rumors that it was nationwide.
In our own Chonburi, a restaurant exception that critics said on social media were leading to bars and pubs with a food license taking advantage of circumstances and encouraging people to drink there was removed. Restaurants are now take away only in the province. Additionally, a sales restriction on alcohol was set into place from 6:00 PM to 6:00 AM.
There is no nationwide curfew or lockdown, however some provinces and villages have made their own stricter rules.