Pattaya-
At a morning meeting at City Hall attended by members of the Pattaya committee for surveillance and prevention of Covid-19, which was led by Pattaya Deputy Mayor Manot Nong Yai, a proposal was brought forth to use the Grand Bella Hotel as a temporary medical facility for people under investigation for Covid-19 symptoms.
The City of Pattaya currently has twelve total cases, with a total of 16 in Banglamung and 53 in Chonburi. 105 people are currently people under investigation for Covid19 in the province. A total of 952 people have been under investigation since the start of the outbreak in Chonburi, with the vast majority testing negative.
The proposal was brought to separate people under investigation for Covid-19 from regular hospital patients at Pattaya and Chonburi hospital and to use the Grand Bella Hotel as a temporary staging area for these investigations. These are people who have not tested positive for Covid-19 but are either being tested or monitored for signs of the illness.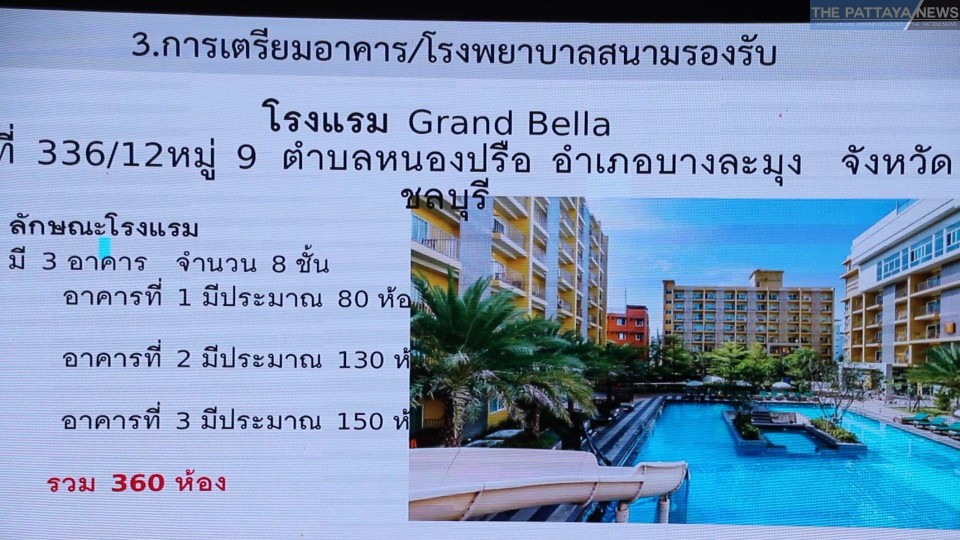 According to the members of the committee, the hotel has all the facilities and resources needed to meet the needs of patients, doctors and staff.
Dr. Petcharat Saowong, MD, expert at Pattaya City Hospital, said that for the field hospital at the hotel, no more than 40 medical personnel would be needed as well as a 24-hour nurse, using a video call system to monitor patients 24 hours a day.
Bangkok Pattaya hospital has also stated they would be willing to help with the necessary medical supplies, sanitizers and other equipment.
Grand Bella management says they would be happy to assist with the situation by offering their conference rooms and facilities.
The proposal will be sent to the Chonburi Governor for approval.