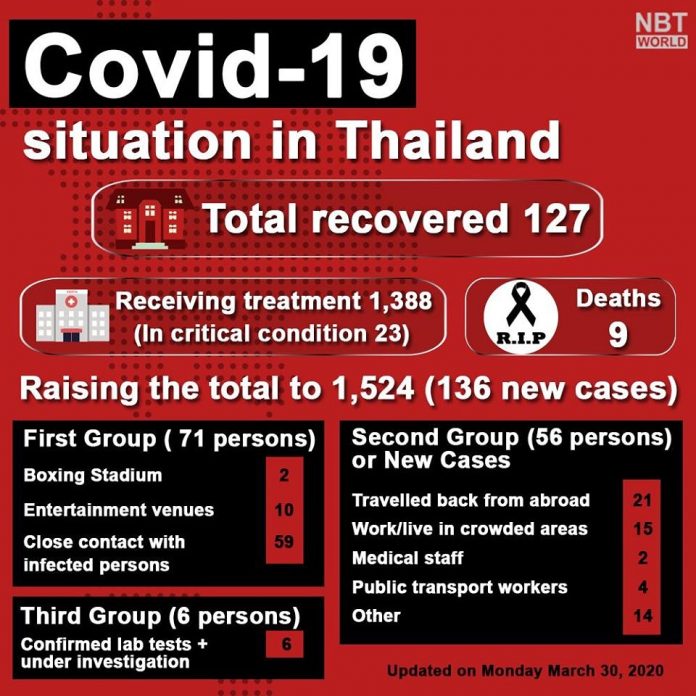 Bangkok-
This afternoon the Thai Department of Disease Control and Ministry of Public Health spoke with the press and announced 136 new confirmed cases of the Covid-19 Coronavirus as well as two additional deaths.
In Chonburi, an additional 3 cases were confirmed, 1 in Banglamung which is the area that contains Pattaya. This brings the total to 15 cases in Banglamung and 52 total in the Chonburi area.
The two deaths were as follows:
A 54 year old Thai man who had recently visited Malaysia and passed away in Yala.
The other death was a 56 year old Thai woman with other health conditions who passed away at a hospital in Bangkok.
A total of 1524 cases have been confirmed in Thailand to date with a total of nine deaths.
The Ministry of Health also stated several high risk areas, of which Chonburi is considered one due to the high level of confirmed cases overall. The majority of the cases confirmed in Chonburi are in Mueang Chonburi, closest to the Bangkok area, and from individuals who attended a boxing match in Bangkok that led to the largest cluster in Thailand.
Further restrictions have been made in other high risk areas, such as Yala and Phuket, but as of press time no further restrictions have been announced in Chonburi.