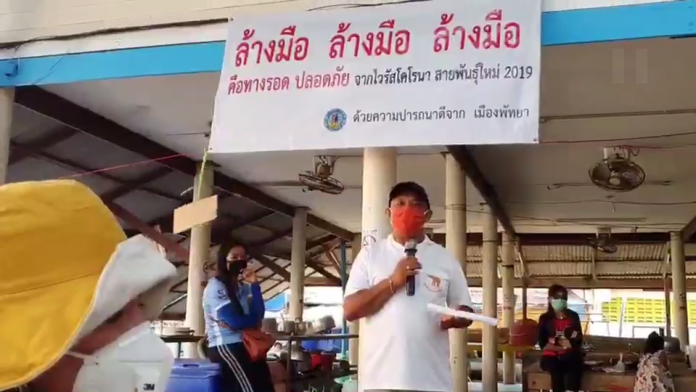 Pattaya-
As the Covid-19 situation worsens in Pattaya and Thailand and local entertainment venue workers have now been out of work for almost two weeks with no sign of relief in the near future, local Thai residents have begun to complain to the local Thai news media, including The Thai version of The Pattaya News, about some foreigners not wearing masks. Additionally, foreigners have been reporting to The Pattaya News English about claims of being told they have to wear a mask in public by local law enforcement officials or face a fine. The Pattaya News was unable to independently verify these claims.
In the Western World many doctors preach not to wear masks, to conserve them for medical staff and that they do not provide protection from the Covid-19 virus. The World Health Organization also advises that wearing a mask is not needed unless one is already sick or in the medical profession. Here is a link to some of the science behind these viewpoints:
https://www.who.int/emergencies/diseases/novel-coronavirus-2019/advice-for-public/when-and-how-to-use-masks
However, many Asian doctors, especially from China, claim against the Western scientific advice that mask wearing helped stop the virus in China. This advice is what is primarily adhered to by Asian countries, including Thailand, which has heavily stressed wearing a mask as part of its prevention measures against Covid-19.
In Thailand and Pattaya places that require wearing a mask have been steadily increasing. Signs on public transportation, Makro's, Banks and even 7-11 state that patrons will not be allowed in without a mask.
One user e-mail to The Pattaya News, from Kenneth, an expat resident, stated the following:
"I was going to visit a local grocery store for groceries and wasn't wearing a mask as my country advises against it if you are not sick. Upon entry, the security guard immediately became confrontational and aggressive, nearly physical, to the fact I was not wearing a mask. I was not aware of the policy and would have been happy to comply, however, the aggressive nature and the guard continuing to point towards the door cost them my business, not just now but likely permanently."
However, as an alternate viewpoint, from the Thai owner of a popular Thai Coffee Shop on Beach Road located not far from Central Pattaya, who did not give her name via e-mail but only stated she owned the shop:
"Most Foreigners won't wear masks. They don't think this helps. This is not what we have been told and it scares us when they come close and won't wear one. Yes, some Thai's don't wear them also but almost every foreigner won't wear them and it makes me worried that every day I am working in my take away shop I could catch the virus."
The Pattaya News has also had several e-mails and messages stating that people were allegedly stopped by law enforcement claiming there was a fine for not wearing a mask in public. This is not true and we advise anyone stopped by these individuals to immediately call the local call center for further assistance at 1337.
In addition, finding masks in Pattaya due to a shortage is still difficult, causing many foreigners to state they were simply unable to find any to purchase and most pharmacies were out. We have also seen alleged claims on comments on social media that masks being sold at some retail outlets were "only for Thai nationals" and foreigners were forbidden from purchasing masks, making the situation more difficult.
The Thai Government has stated they are resupplying masks nationwide as quickly as possible to all citizens, residents and tourists.