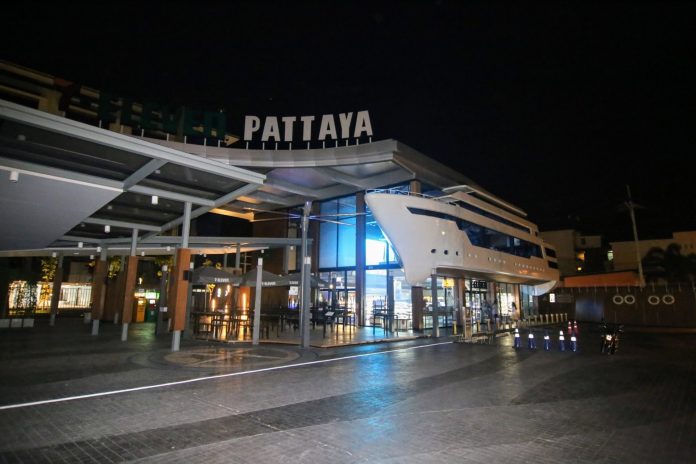 Pattaya-
Convenience stores, like 7-11 and Family Mart, responded to new rules from the Chonburi Governor starting yesterday and began closing at 10:00PM in the Pattaya and Chonburi areas.
The new rule is in response to the spread of the Covid-19 Coronavirus and the resulting domino effects of tens of thousands of unemployed people in the Pattaya area and millions around the Kingdom of Thailand.
We reported earlier this week on a brazen early morning armed robbery at a local 7-11, in which the suspect has still not been caught as of press time after fleeing with 5,000 baht. (About 150 dollars US). This incident prompted armed patrols in the Pattaya area, as well as several smaller incidents that have taken place. Out of concern for potential rising crime with the large unemployment rate the decision was made to close convenience stores until the situation improves in terms of the Covid-19 Coronavirus.
Read more on that robbery and situation here:
https://thepattayanews.com/2020/03/27/police-hunting-for-armed-robber-at-banglamung-7-11-as-pattaya-city-introduces-armed-patrols-video/
Read more on the Armed Patrols here:
https://thepattayanews.com/2020/03/27/pattaya-city-police-introduce-heavily-armed-patrols-to-help-protect-at-risk-areas-like-24-hour-convenience-stores/
The closure of the stores led to an eerie scene last evening after 10:00 PM, with the streets of Pattaya largely deserted. It is worth noting that there is no curfew or lock-down in Pattaya and people are still free to travel where they wish, however, with the cities thousands of bars, nightclubs, music venues, strip clubs and other world famous nightlife venues closed, there is basically nowhere for someone to visit.
In addition, the Governor of Chonburi requested that nobody be allowed on local beaches, including the large boardwalk and walkways in front of them, from 8:00PM to 6:00PM to help encourage social distancing. In prior days, before the request, large groups of people were gathering to drink and socialize on the beach as all the regular places to do so were closed. Beaches can only be closed by the Ministry of the Interior officially, however, police are using laws on public gathering, public intoxication and even rarely used open container laws to help enforce the request.
For now, the city world famous for its nightlife and partying remains quiet, wondering when the party can start once again. Pattaya depends on tourism for an estimated eighty percent of it's yearly revenue, attracting millions of visitors from all over the world every year to come and let loose and relax in arguably one of the worlds biggest adult nightlife venues.