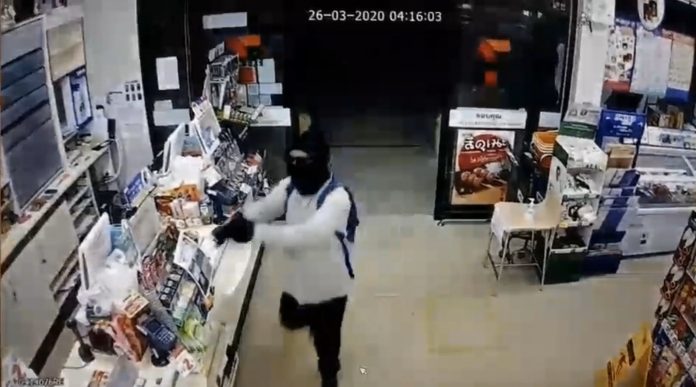 Pattaya/Banglamung

Police are hunting for an armed suspect who robbed a 7-Eleven in Banglamung early yesterday morning around 4:30 AM.
See the video of the robbery here:
The Bang Lamung Police Chief Colonel Pattanachai Pamornpiboon told The Pattaya News that the male suspect was believed to be in his mid thirties. They were following several leads on the suspect and expected to catch him within a short period of time.
The suspect used a gun to threaten two staff members at the store and force one to open the register. The suspect took 5,000 baht cash and sped away on a motorbike.
Banglamung police checked the CCTV footage and they believe the suspect used a BB gun and not an actual firearm in the robbery.
The incident, along with general concerns about the number of unemployed in the Pattaya area due to the Covid19 crisis and closure of all entertainment venues and most non essential businesses, have led to armed patrols being introduced in Pattaya for high risk locations.
Read more about the armed patrols being utilized here:
https://thepattayanews.com/2020/03/27/pattaya-city-police-introduce-heavily-armed-patrols-to-help-protect-at-risk-areas-like-24-hour-convenience-stores/