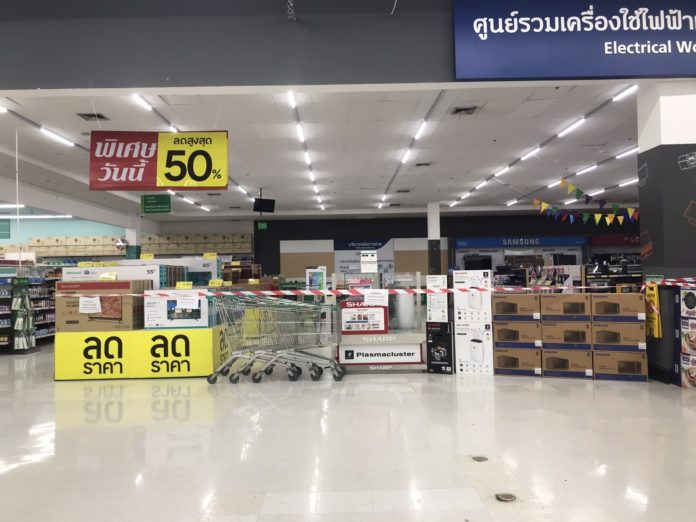 Pattaya-
As a result of an order from the Chonburi Governor to close all non essential businesses in local shopping malls and make restaurants in malls have takeout only, Grab drivers have been seen in larger numbers at the malls…but told The Pattaya News business is actually down, despite what consumers think.
Department stores have been asked to sell only essential goods, so this means aisles of electronics and clothes have been roped off and closed for the time being. Only essential goods-like the supermarket section and hygiene items-remain open.
As rows of closed shops can be seen in area malls, the restaurants at Central Festival and Terminal 21 have set up takeaway booths on the ground floor levels where customers-and delivery drivers-can visit to pickup orders or place them. The tables are spaced wide apart and precautions to enter the area including temperature checks and ensuring use of hand sanitizer. Drivers wait in approved areas with proper social distancing standards.
Mr. Pichet Phumrang, 38, a driver for Grab Food, spoke to The Pattaya News and said that despite what people thought, he and all of his co-workers were actually struggling in this situation and business was also down for local drivers. He explained the following to us-
"Many people think with all the restaurants doing take away we are doing great as drivers and business is up. That isn't the case. With almost all foreign tourists gone, which was a significant part of our income, most of our customers are Thais, with a few expats or people stuck here because of the situation."
"As many people are out of work, they are not providing tips or ordering as often. We are seeing many less orders overall as people stockpile cheaper goods at home and avoid ordering more expensive restaurant food. Nobody knows how long this will last."
"Also, although restaurants are doing a good job, with the current system many have less staff and cooks and have to get the orders from many levels above in the malls. This significantly raises delivery and wait times for us and has caused frustrated customers." He finished.
At this point, restaurants not in shopping malls can still offer dine in, The Pattaya News adds, but must follow strict standards, ensure proper hygiene, not allow groups to drink and socialize, etc. Many restaurants have chosen to stop selling alcohol to avoid people wanting to gather and drink.
The order from the Governor of Chonburi is set to continue until "The situation improves" which at this point nobody is sure exactly when that will be. The Governor of Chonburi has also stressed for people to stay at home and socially distance. The faster people do that, he says, the faster this situation will be resolved.