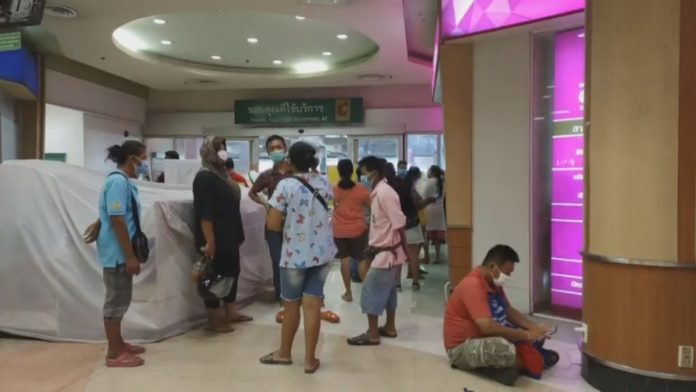 Pattaya-
Local Government Savings Bank branches, as well as other government banks like Krungthai, saw a large turnout of people show up at local Pattaya branches today looking to file for the Thai government payout of 5000 baht for all informal workers who are currently unemployed due to Covid-19.
Branches were seen providing temperature checks, hand sanitizers and taking other strict measures, however, there was still a large amount of people causing social distance concerns.
The measures that were approved by the Thai Cabinet earlier this month are the following:
For workers outside the social security system affected by COVID-19 they will receive a grant of 5,000 baht per month for 3 consecutive months. In addition, loans are available for those who wish to apply with the government giving 10,000 baht per month with low interest and a second loan of 50,000 baht per month, 0.35% interest per month. The second loan requires guarantees, the first one does not.
As expected, dozens of people were seen lining up and visiting local banks for the offer which was expected as tens of thousands are laid off in the Chonburi area due to the closure of entertainment businesses and non essential places.
Bank officials, however, told The Pattaya News they urge people to file online or over the phone to help "socially distance" and prevent any potential spread of the Covid-19 Coronavirus.
The ways to file are as follows, to avoid coming in person and to socially distance:
Online: Register at a website in Thai, which is essentially we don't leave each other behind in Thai. Here is the website: www.เราไม่ทิ้งกัน.com (Note, it is not live until tomorrow according to officials.)
– Contact government banks such as Krung Thai Bank, Government Savings Bank and BAAC. They can assist with the process. Calling them is preferred to an in-person visit
-For more information about online registration, please call the Krung Thai Bank Public Company Limited's telephone number 02-111-1144.