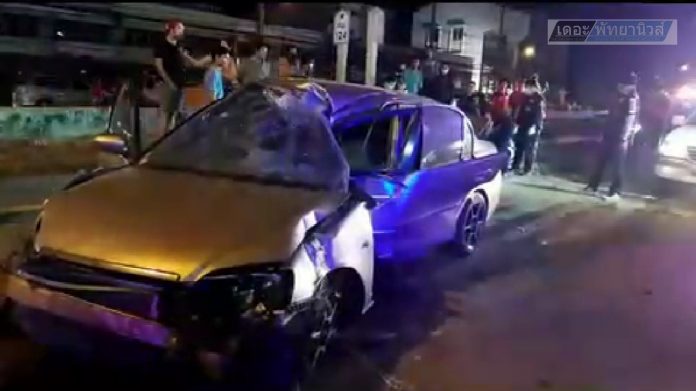 Pattaya-
At 22.00 hrs on March 20, 2020, Pattaya rescue officials were notified that a car had collided with an electric pole in Central Pattaya.
The incident had taken place on Sukhimvit road in Pattaya.
Police, The Pattaya News and local rescue workers found the vehicle with a heavyset man trapped inside.
The man, 23 year old Peerapat Wattanathongchai, a local mechanic, was pronounced dead after attempts were made to give him CPR.
A friend of the man, who declined to give his name and came to the scene of the accident with relatives stated that the man was due to become ordained as a monk in only three days. He had just spoken to Peerapat who was supposed to meet him for dinner at a local restaurant.
Rescue officials said the man had little visible injuries on his body and was believed to have died from internal injuries. The exact cause of the accident is unknown. CCTV will be reviewed at the scene.
Alcohol was not believed to be a factor in the accident, Pattaya police added.