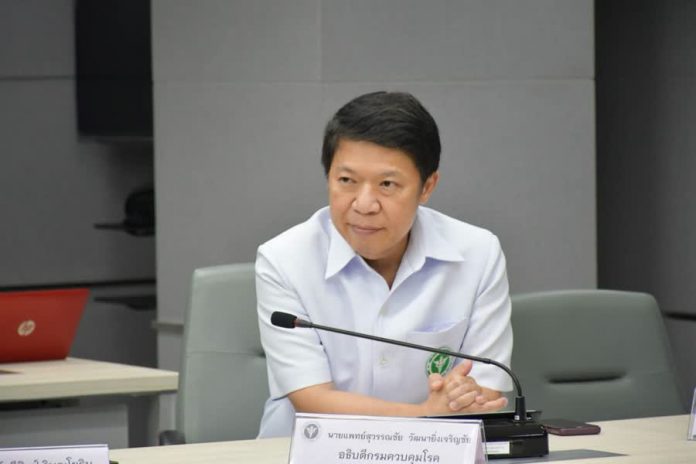 Bangkok-
BANGKOK(NNT) – Since the government asked every sector to adopt a "Work from Home" policy, in an attempt to slow down the virus outbreak, more people than expected have been traveling to their hometowns. The Director-General of the Department of Disease Control has informed regional administrations to plan for further outbreaks of COVID-19.
Doctor Suwanchai Wattana-Yingcharoenchai, Director General of Department of Disease Control (DDC), and the National Communicable Disease Committee sent a request to Provincial Governors to make preparations for finding, tracking, monitoring and quarantining any infected people arriving in their districts and villages.
The plan aims to have volunteers searching and monitoring, as well the establishment of a database of home-comers, starting today. The doctor also emphasized the importance of following instructions to prevent the spread, such as 14-days of self quarantine, avoiding sharing cutlery and personal staff, washing hands frequently with soap for at least 20 seconds or using 70-percent-alcohol hand sanitizers, adopting social distancing, especially with the elderly and chronically ill patients. Most importantly, report to medical authorities in the case of developing symptoms.
Despite widespread comments on social media, both from foreigners and Thais, stating that closing all non essential businesses before thinking through possible domestic travel restrictions, the amount of people returning home has reportedly caught the government off guard.
As stated previously, the Thai government says more people then expected left Bangkok, Pattaya and Phuket and they will need the cooperation of the Provincial Governor's, many who are reportedly extremely displeased with the decisions made.
Some provinces, like Buri Ram, seemed to predict this happening and implemented controls on all entering the province prior to the announcement of all non essential businesses closing.